Central African Republic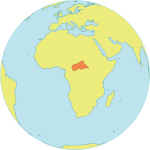 Maternal Mortality Ratio
829
Contraceptives prevalence rate
23
Population aged 10-24
36.2%
Youth secondary school enrollment
Related content
MONROVIA, Liberia – Ebola has devastated health systems in Liberia, where the outbreak appears to be intensifying. UNFPA is providing protective gear to health workers and safe delivery kits to health facilities, helping to restore access to life-saving care. Still, the...
AMMAN/NEW YORK - Over 200,000 Syrian refugees are living in Iraq, having escaped the four-year-long conflict in their homeland. Yet for some, the move offers little respite from crisis: A UNFPA assessment has shown that northern Iraq is facing its worst humanitarian and health...
UNITED NATIONS, New York – UN officials have declared the humanitarian crisis in Iraq a "Level 3 Emergency," the highest-level emergency designation. Over a million people have been displaced.
Pages