Central African Republic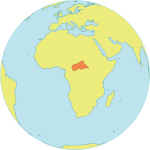 Maternal Mortality Ratio
829
Contraceptives prevalence rate
23
Population aged 10-24
36.2%
Youth secondary school enrollment
Related content
A documentary about five Ethiopian women whose lives have been devastated by obstetric fistula and the difficult journey they undertake.
In Uganda today family planning is at the top of the agenda. At the moment there are 34 million citizens but the country has one of the fastest growing populations anywhere in the world. On average each woman will give birth to six children.
This Slide Show was exhibited at the UNFPA Booth during the Women Deliver Conference, held June 7-9th in Washington, DC.
Pages