Central African Republic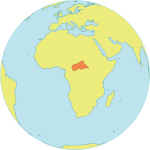 Maternal Mortality Ratio
829
Contraceptives prevalence rate
23
Population aged 10-24
36.2%
Youth secondary school enrollment
Related content
On 14 May 2017, dozens of countries around the world will observe Mother's Day. It is a day to celebrate mothers everywhere, but also a moment to reflect on the risks that too many women still encounter on their journey to motherhood – and what can be done about it. See more...
Ferocious violence erupted in Juba, the capital of South Sudan, killing or wounding hundreds and displacing tens of thousands.
Jackie knows about heartbreak. She became pregnant in the ninth grade and was forced to leave school. Then, when her baby was nearly two years old, she suddenly fell sick. "I took her to the clinic. But when I came back, she was dead," Jackie told UNFPA.
Pages