United Kingdom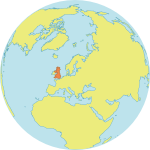 Maternal Mortality Ratio
7
Contraceptives prevalence rate
74
Population aged 10-24
17.3%
Youth secondary school enrollment
Related content
Syria is experiencing the biggest humanitarian crisis in the world today, and over the past five years, UNFPA has been providing critical services to thousands women and girls impacted by the crisis. As of December 2015, more than half of all Syrians have been forced to flee...
Standing several inches shy of her middle-aged groom's shoulder, the 12-year-old bride, outfitted in a child-size white wedding gown and veil, stiffly clutches a small bouquet, as a photographer snaps the newlyweds' photo and the sun begins to set over a picturesque waterfro
"When I was 9 years old, my mother told me that three of her sisters died because her grandmother practiced female genital mutilation (FGM)," says Patricia Tobon Yagarí, an Emberá indigenous lawyer from Colombia.
Pages