United Kingdom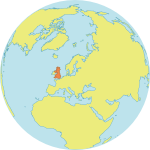 Maternal Mortality Ratio
7
Contraceptives prevalence rate
74
Population aged 10-24
17.3%
Youth secondary school enrollment
Related content
Ghalfa, the Sudanese word describing a girl who has not had her genitals ritually cut, carries connotations of impurity, promiscuity, even prostitution.
This editorial by UNFPA Executive Director Babatunde Osotimehin, which talks about the upcoming family planning summit and the need to expand access to family planning worldwide, was published in the Poverty Matters Blog of the Guardian.
SARAJEVO, Bosnia and Herzegovina — Amela Dafovic feels lucky to be alive. The fact that she is still here is thanks to her gut feeling that something was wrong, despite assurances from her doctors suggesting otherwise.
Pages