United Kingdom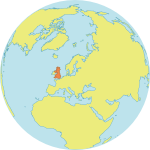 Maternal Mortality Ratio
7
Contraceptives prevalence rate
74
Population aged 10-24
17.3%
Youth secondary school enrollment
Related content
RIO DE JANEIRO —On the eve of the official opening of the UN Conference on Sustainable Development, Member States announced that they had agreed on the Conference's outcome document, The Future We Want.
A new study by the Guttmacher Institute and UNFPA finds that the number of women in developing countries who want to avoid pregnancy but are not using modern contraception declined only slightly between 2008 and 2012, from 226 to 222 million.
The world's population surpassed 7 billion last October and is expected to grow to 9 billion by the middle of this century.
Pages