United Kingdom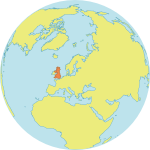 Maternal Mortality Ratio
7
Contraceptives prevalence rate
73
Population aged 10-24
17.3%
Youth secondary school enrollment
Related content
The UN agencies known as the H4+ support priority countries that take concerted actions to meet the Millennium Development Goals on maternal and child health. UNFPA has identified Zambia as one such country. The following feature shows some of the "Good Practices" the country...
The United Nations biannual population projections are some of the most (if not the most) widely used numbers in demography. Researchers and policymakers alike rely on the figures to plan for present and future challenges.
BANGKOK -- Dramatic demographic changes in Asia, coupled with persistent social inequality, require countries to urgently tackle population concerns with foresight and justice, the head of UNFPA  said today at a regional gathering of experts in the field.
Pages