United Kingdom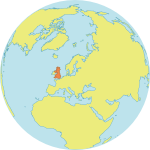 Maternal Mortality Ratio
7
Contraceptives prevalence rate
74
Population aged 10-24
17.3%
Youth secondary school enrollment
Related content
The sixth of February is International Day of Zero Tolerance for Female Genital Mutilation (FGM), a day to raise awareness of the practice and work towards its elimination. UNFPA will observe the day on 8 February, when a special high level event will be held at the United...
In late 2013, Haneen, now 14, fled Syria with her parents and 10 siblings. As her family made its way to the Turkish border, her father sustained injuries that left him paralyzed.
Universal access to reproductive health affects and is affected by many aspects of life.
Pages