United Kingdom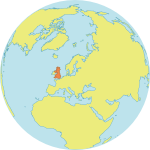 Maternal Mortality Ratio
9
Contraceptives prevalence rate
79
Population aged 10-24
17%
Youth secondary school enrollment
Related content
<p>UNITED NATIONS — The third International Conference on Family Planning will take place in Addis Ababa, Ethiopia, from 12-15 November 2013.
As the target date for achieving the Millennium Development Goals (MDGs) approaches, UNFPA has launched an advocacy platform for the subsequent post-2015 development framework, Empowering People to Ensure a Sustainable Future for All.
"Tomorrow is today aged 10, and it's a girl. Change her life, change the world," UNFPA Executive Director Dr. Babatunde Osotimehin says in his statement on the International Day of the Girl Child.
Pages