Myanmar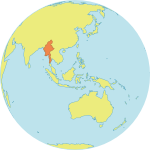 Maternal Mortality Ratio
250
Contraceptives prevalence rate
33
Population aged 10-24
27%
Youth secondary school enrollment
Related content
Within the Syria crisis region, which spans the whole of Syria, Turkey, Lebanon, Jordan, Iraq and Egypt, there have been a total of 129,407 confirmed cases of COVID-19 as of April 30, 2020.
A new report by UNFPA offers, for the first time, a global view of women's decision-making power over their own bodies. The findings are dismaying.
Yemen's economy has been badly fractured by half a decade of war. In the first quarter of 2020, economic forecasts indicate that macro-economic conditions are likely to continue deteriorating.
Pages