Sweden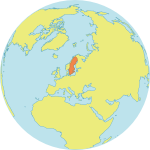 Maternal Mortality Ratio
4
Contraceptives prevalence rate
62
Population aged 10-24
16.5%
Youth secondary school enrollment
Related content
In March 1995, the UN Commission on Population and Development was given responsibility for monitoring, reviewing and assessing the implementation of the ICPD Programme of Action. Each year, the Commission reviewed different themes related to the...
UNITED NATIONS -- Actress Linda Gray will lead an international advocacy campaign for reproductive health care, gender equality and the empowerment of women throughout the world.
On the 20-year anniversary of the adoption of the Universal Declaration of Human Rights, an International Conference on Human Rights was convened to assess progress in its implementation. Representatives of 84 Member States, along with delegates...
Pages