BUHERA, Zimbabwe — Bishop Xavier Chitanda does not fit the mold. Small in build and of medium height, he comes across as very unassuming. On this day in Buhera, Manicaland, he is not even clad in clerical vestments. It is tempting to write him off as one of those street corner preachers who have cropped up all over Africa in recent years. But when he speaks, doubts dissipate. It is evident why he exudes the strength, determination and power of a man with a mission. For it is nothing less than a revolution that he has been called to lead.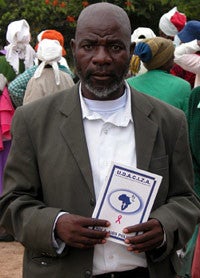 Congregants of 33 Apostolic and Zionist churches in and around Buhera, members of the Union for the Development of Apostolic Churches in Zimbabwe Africa (UDACIZA), have been gathering patiently in a school compound since the early hours of the day to hear him speak. He arrives six hours late, amid thundering applause and song and immediately launches into a sermon on the need for change in the church.
Chitanda is one of among a small group of religious leaders who are challenging the very foundations of their faith. And he is doing so because of HIV—a disease that is now making devastating inroads into his increasingly beleaguered flock. For decades, member churches of UDACIZA had faced criticism for using the Bible to justify practices such as wife inheritance; polygamy; marrying young girls to elder against their will; and a ban on contraceptives. These criticisms became even more vocal amid the rising tide of the AIDS pandemic when the Church continued to steadfastly denounce condom use as a means of HIV prevention.
"We have to preach the anti- AIDS gospel if we want to remain relevant in the lives of the millions of our members... "

--Bishop Chitanda
But that has changed. "As members of the Apostolic and Zionist Churches, HIV/AIDS has not spared us either. And like everybody else in the country, we have also lost loved ones and continue to suffer from the ravages of the epidemic," Bishop Chitanda says. The realization that the pandemic sweeping the country was stealing both the lives and health of congregants and leaving children orphaned and homeless marked a turning point for the Apostolic Elders.
In his sermon, Bishop Chitanda tells the faithful in Buhera that AIDS offers an opportunity to right the wrongs of the past. "Although most religious leaders know about AIDS, they haven't been open about it. We have to preach the anti- AIDS gospel if we want to remain relevant in the lives of the millions of our members not only in Zimbabwe, but also in Botswana, Namibia, South Africa and Mozambique."
Bishop Chitanda urges use of the power of the gospel to transform lives and communities, especially with regard to ending wife inheritance, polygamy, and marriage between older men and young girls. "Polygamy is no longer tenable in present conditions. However, those who are currently in polygamous unions should remain faithful to their partners," he says.
As if on cue, a troupe of actors stages a short play highlighting the dangers inherent in some traditional practices. The messages are clear—be faithful to your partners; get tested for HIV; recognize that women have rights beyond reproduction and child care; don't force your daughters to marry older men; and send your daughters to school.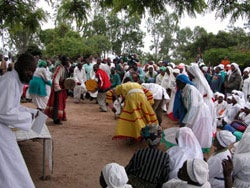 "We felt that there was a need to develop tools that would guide us in our HIV/AIDS interventions," says Bishop Chitanda. "This will help us to change aspects of our behaviour and practices that expose us to increased risk of infection and that would also enable us to link up and benefit from what others are doing in their fight against AIDS."
Following wide consultations among its members, and with the technical assistance of the Zimbabwe's AIDS Policy Advocacy Project, UDACIZA has produced an HIV/AIDS policy document that calls on the Apostolic and Zionist Churches to "review their practices, internal laws, policies and guidelines to ensure that they are in conformity with the reality of HIV and AIDS," and to translate knowledge about the disease into behaviour change to reduce its spread.
This work is one example of how influential religious leaders and faith-based organizations can be. UNFPA, the United Nations Population Fund, has discovered that engaging such partners can have benefits beyond changing individual attitudes and behaviour. Their advocacy can also place reproductive health and rights issues squarely on a wider agenda, so that discussions once considered taboo can move into the public arena. The results can be broad and long-lasting.
Asked what she felt about the change the church had embarked on, Mrs. Fatima Zariro, a female congregant who was recently allowed to preach from the pulpit, was jubilant: "Women now feel empowered."
Grace Chisi, a teenaged member of the Faith, was happy that girls were being encouraged to go to school and to report cases of abuse, including rape, to authorities.
Bishop Chitanda readily admits that his mission is fraught with dangers, not least of which is schism from traditionalists. "But we believe in the power of continuous dialogue and training to overcome potential challenges."
There are challenges galore: mobilizing resources for training, encouraging HIV testing and counselling, organizing home-based care for those living with HIV, supporting AIDS orphans and reducing the stigma associated with the disease.
The expression on the faces of hundreds of congregants, whose patience was not dented by the long wait for their bishop, is a hopeful indication of positive change. As night falls over Buhera, congregants, male and female, clad in long white and red gowns, suddenly sway to the pulsating beat of choir drums. Elders lead the dancers who move frenziedly as they shuffle with bare feet across the sand. It is not just dance and music. It is praise for God and an invocation for guidance on the hard road to change. 
— George Ngwa