In towns across Ecuador, communities are finding that equipping young people with information about reproductive health and sexuality can have profound consequences. An adolescent reproductive health project has educated more than 140,000 Ecuadorian young people about their reproductive health, improved awareness of the transmission routes of sexually transmitted infections, reduced adolescent pregnancies and increased the use of adolescent-friendly reproductive health and counselling services.
ECUADOR—Cradled in an emerald green valley high in the Andes Mountains in southeast Ecuador, the town of Zamora doesn't look like it's on the 'cutting edge' of anything. But this quiet town of 15,000 people has managed to eliminate teenage pregnancies and dramatically improve the reproductive and sexual health of its young people. Zamora was able to accomplish this through an adolescent project sponsored by UNFPA (the United Nations Population Fund), and implemented by a national NGO, Fundacion Esquel, in cooperation with local governmental and educational authorities.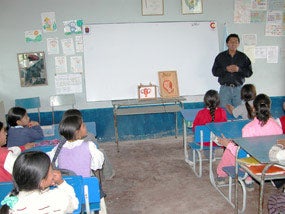 As a result of this initiative, made possible by a grant from the UN Foundation, Zamora has another claim to fame: it has the youngest city council member in the entire country. Ximena Cruz is just 21 years old. As a high school student in Zamora she was one of several hundred beneficiaries of the project – Improving the Reproductive and Sexual Health of Adolescents. After she graduated from a local college, the leadership skills she developed through the project helped her get elected to the city council.
"This initiative has had a major impact on my life and that of my community," she says unequivocally. "Adolescent girls and young women are much more in control of their sexuality now than ever before, and we all know how to prevent sexually transmitted infections and HIV, among other things."
Ecuador is dominated by young people. Nearly half the population of this small Andean country is under the age of 19, reflecting the global trend. UNFPA estimates that one-sixth of the world's total population – 1.2 billion – are adolescents between the ages of 10 and 19, who constitute the largest youth generation in history. The choices and opportunities provided to youth now (or lack of them) will powerfully influence the future shape of societies.
" Ignorance is not bliss when it comes to adolescent reproductive health issues: Just the opposite. Ignorance of these issues can ruin your life. "

--Ximena Cruz
Before this project was initiated, Zamora, like many isolated communities, registered a relatively high number of adolescent pregnancies. "Several girls in my class got pregnant before they could graduate and had to leave school," points out Ximena. "And we also had cases of STIs."
No longer. "For the past two years there has not been one reported case of a teenage girl getting pregnant," said Ximena proudly, "and we have no cases of STIs or HIV."
Through this project the community was able to introduce reproductive health education into the town's secondary schools, set up a youth centre in the town hall and introduce youth friendly reproductive health services in the local clinic. A number of teachers received special training on sexual and reproductive health issues, which helped them to become effective community advocates for responsible sexual behavior.
"But in reality," observes Ximena, "all the students in my high school became advocates for reproductive health and rights. We all learned so much about our bodies and how to take control of our sexuality and be responsible. Ignorance is not bliss when it comes to adolescent reproductive health issues," she said. "Just the opposite: ignorance of these issues can ruin your life."
Currently, Ximena is advocating for more sexual and reproductive health classes for secondary school students in Zamora and nearby communities. "I can't think of another initiative that has had such a profound impact on my life and that of my peers," she says. "It really changed our outlooks and perceptions on these life-shaping issues. Now, even the church agrees that this was a very worthwhile endeavor."
About an hour's drive away along a road that snakes through steep gorges is the regional capital, Loja. A city with 160,000 people, it is the political and economic hub for the entire southeast corner of the country. Sitting in the library of the largest high school in the city, Lucia Fierro, a teacher and school psychologist, explains how sexual and reproductive health education in the city's school system has made a difference, shaping adolescent attitudes and changing behavior.
"We introduced sexual and reproductive health education as part of a participatory process," explains Fierro. "It was not imposed or presented to us as a fait accompli." The result is that a number of teachers designed their own classroom materials, using the educational guidelines as a basis.
"In the beginning we faced many problems – from parents, other teachers, religious and community leaders," recalls Fierro. "These issues were all taboo. No one talked about adolescent sexual and reproductive health at all. We were faced with a profound ignorance about these important issues."
However, once community and religious leaders understood what the project was trying to accomplish, their initial objections faded away. "After we explained to them that these classes are designed to make young people more responsible in their relationships, not less so, and to be accountable for their actions, they supported our efforts."
The true value of the project, according to Fierro, was that it changed attitudes towards sexuality. "The community discusses these issues openly now," she points out. "It has altered fundamentally our way of looking at adolescents and sexuality. The blinders are off."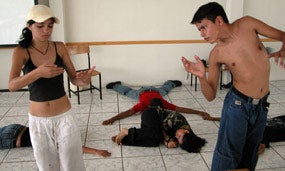 Along Ecuador's tropical Pacific coastline where dark, silty waters wash against the shore, sexual and reproductive health education efforts have spawned an entire youth movement. Known as "Ponte Once" – loosely translated as "Give it your all" – the network brings together a number of youth organizations active in six of Manabi Province's 22 cantons. It has the support of local government officials, educators, health workers, university professors, and community and religious leaders.
"We now have a broad base of support throughout the communities in this region," said Elena Ponce, 22, one of the first members of the Talofitos youth network and coordinator of Ponte Once. "But in the beginning the authorities did not understand what we were trying to achieve. Some of them thought that since we were talking about sexuality we must be sex workers!"
Not far from the main city of Manta, lies the medium sized town of Jipijapa. The local government set aside a youth centre in the bus terminal to be used exclusively by Elena and her dynamic group of young people. They vary in age from as young as six to as old as 22; those in the 18-22 age group refer to themselves as the "talofos".
This group was trained by the project to be community advocates for sexual and reproductive health and rights for young people. They not only visit schools and colleges in the region to talk about these vital issues, they also produce a radio programme managed jointly by various youth organizations under the Ponte Once network. Called "Breaking the Silence", the programme is broadcast live every Saturday morning to several hundred thousand listeners all over the province. Produced at a small commercial radio station in nearby Portoviejo, the programme covers all aspects of adolescent reproductive health and sexuality, as well as sports, news, music and other popular topics.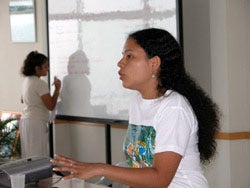 A university student majoring in civil engineering, Elena has been with the initiative since its inception and has seen firsthand how it has transformed communities. "We get invited to participate actively in community discussions concerning youth and we have a theatre group that performs short dramatic skits on a wide variety of reproductive health topics all over the province," explains Elena. "We are now an accepted part of the political and social landscape here."
As in Zamora, there have been no recorded teenage pregnancies in Jipijapa or neighbouring towns since the programme started. And as a result, the number of abortions has also dropped. "Ponte Once is now a household name in this province," said Elena. "We have managed to bring these important issues out into the open. And everyone, especially parents, thank us for doing so!"
Though the initiative in Zamora and Loja officially ended in 2004, the results are being sustained and the method replicated in three other provinces. UNFPA will continue to support the creation of local youth centres and work to strengthen youth movements throughout the country. Meanwhile, local councils are appropriating funds to keep youth centres open, NGOs are supporting specific activities, such as radio programmes and theatre troupes, and municipalities are maintaining youth-friendly reproductive health services in clinics and hospitals.
"We have broken the taboos around sexual and reproductive health for young people in Ecuador," said UNFPA Assistant Representative for Ecuador, Lily Rodriguez. "And the consequences have been dramatic. We are now working with the Ministry of Education to introduce sexuality education into every secondary school in the country and with the Ministry of Health to upgrade selected health facilities, making them more gender sensitive and youth friendly. We have a long way to go, but we are seeing the beginning of a reproductive health revolution with profound consequences for the country."
-Don Hinrichsen