UNITED NATIONS, New York/MONROVIA, Liberia – Jackie knows about heartbreak. She became pregnant in the ninth grade and was forced to leave school. Then, when her baby was nearly two years old, she suddenly fell sick. "I took her to the clinic. But when I came back, she was dead," Jackie told UNFPA.
When Jackie was finally ready to return to school, the Ebola outbreak struck. "Ebola spoiled the whole school year," she said. "This year, again, I'm still in the ninth grade instead of being in twelfth grade."
Then she met James S. Yangbie, a youth volunteer in River Gee County, who runs a health club at Jackie's school.
"Before I came, there was no sex education, there was no health education," Mr. Yangbie said. Now, he said, "this club is used to carry on education in the community, in other villages, and in the school among the little ones, so that they can be safe in the future."
"James helped me to get contraceptives to protect myself," Jackie said. "Today, I think I am blessed because as long as I understand, I won't make a mistake in my life again."
Extraordinary young people
Mr. Yangbie is part of an extraordinary group of young adults working to strengthen reproductive health education and services in Liberia, a country whose health system is still reeling from a devastating 14-year conflict and, more recently, the massive 2014 Ebola epidemic.
About a third of women and girls have an unmet need for family planning; the fertility rate is nearly five children per woman. And giving birth is dangerous. A Liberian woman has a 1 in 28 lifetime risk of dying from pregnancy-related causes.
And there are too many girls in Jackie's shoes. The adolescent birth rate is a staggering 147 per 1,000 girls aged 15 to 19 – among the highest in the world.
UNFPA, in partnership with the government, launched the youth volunteer programme in 2013, selecting 50 talented young people from around the country. They were trained to provide reproductive health counselling and education, and to manage the supply chain for items like condoms and oral contraceptives, which were persistently in short supply.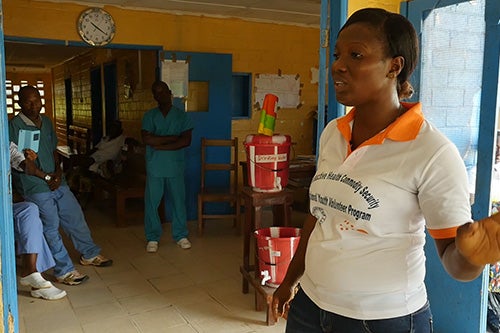 Odell Bedell leads a reproductive health talk at a clinic in Montserrado County. © UNFPA/Ruth Fertig
After training, they were deployed across the five regions of Liberia with the greatest needs. Some serve as stockroom managers, tracking the movement of contraceptives throughout the country. Others work in clinics and schools, and conduct outreach in remote villages and communities.
Hundreds of thousands of women and girls reached
They have been incredibly effective, reaching 300,000 women and girls.
"I think they will listen more than an older person talking to them," said Odell J. Bedell, who is stationed at Koon Town Clinic in Montserrado County. "I can talk to them like a friend talking to a friend."
They also help women and girls advocate for themselves to parents and partners who are opposed to family planning.
Patience, in Grand Cru County, is 23 years old and already has four children. After health counselling, she told her husband she wanted to use family planning. "He told me, 'No way'," Patience said.
But then Lakie Paasewe, a volunteer at Behwen Health Center, explained to him the value of family planning. "I started explaining how family planning works, and now he accepted it," Ms. Paasewe said.
There are now plans to scale-up the programme.
Ebola crisis
The Ebola crisis struck soon after the programme was launched, and the assignments were initially suspended because of the risks to volunteers.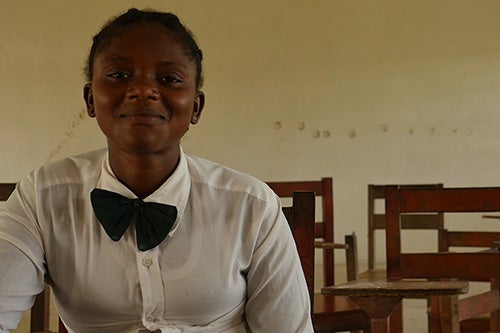 Jackie was forced to leave school after becoming pregnant. Tragically, her baby died at less than two years old. Jackie has now returned to school, and is part of the health club at her school. © UNFPA/Ruth Fertig
But many of the volunteers were determined to help, even serving on the front lines as contact tracers or spreading awareness of how to protect against the disease.
Liberia was recently declared Ebola free, but the volunteers continue to educate the community.  "We still give lectures on Ebola prevention," said Nathaline M. Bono, a volunteer at Redemption Hospital in Montserrado County. "We also tell them how to prevent pregnancies" and sexually transmitted infections.
Difficult but rewarding work
"It is not easy," said Savey Molubah, a youth volunteer in River Gee County. He walks vast distances to reach communities without access to reproductive health information.
"One time, we went to another village. Back [would have taken] about eight hours. We could not come back. I had to sleep in the forest," he said.
Still, despite the challenges, he said, he does his work "with passion."
Their efforts are helping them build skills for their future roles as health experts, project managers or educators, and they see every day that they are making a difference in people's lives.
"They're actually having conversations that are changing lives, changing communities," said Youth Minister Saah Charles N'Tow.
"I never knew that I could make any impact in any one life," Mr. Yangbie said. "But with this programme, I think I have made a very huge and significant one."
Reporting by Ruth Fertig