KAMPALA, Uganda — One student called his parents IDPs — 'Internally Displaced Parents'. "They do not make time for me," he said. "We hardly have supper together. How am I supposed to ask them about sex if I never see them?" This was during a recent debate on teenage pregnancy organized by UNFPA Uganda together with Straight Talk Foundation and the Population Secretariat.
The debate followed an essay writing competition that garnered over 500 submissions and aimed to carry forward the dialogue on teenage pregnancy that began with World Population Day.  Students aged 13 to 19 were encouraged to share their stories about teenage pregnancy, as well as their views about the causes, consequences and possible ways to address the issue.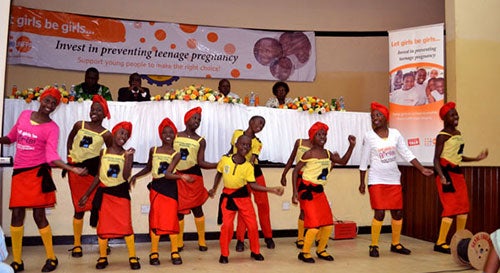 Students composed and performed edutainment pieces during the debate. Photo © UNFPA Uganda
The event brought together some 300 people including students, teachers, government officials, and representatives of civil society organizations. Young people took full advantage of the opportunity to air their views, and came displaying slogans such as  'First Things First! Book before Babies,' on T-shirts, geometry sets and exercise books.
'Don't keep us in the dark about sex'
During the debate, young people asked for more guidance from parents and more action from the government. "Do not keep us in the dark about sex and do not talk about it using parables. We ask for the integration of sexuality education in the school curriculum!" said Veronica Nankya from Namboole High School.
Many noted the important links between pregnancy and the opportunity to get an education: As Kaddu Suubi Jeffrey of St. Mary's College Kisubi wrote in his essay, "Many schools in Uganda do not condone teenage pregnancy, and should a girl get pregnant, she is expelled, the girl's education is interrupted as she has to wait for nine months before she can resume school, or never!"
Easy access to pornography and misinformation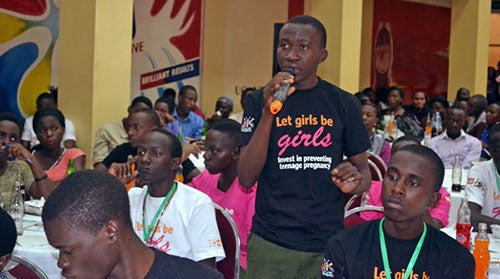 Male engagement is a critical aspect of addressing teen pregnancy. Photo © UNFPA Uganda
They also expressed concern about easy access to pornography compared to the relative lack of solid information and accessible reproductive health care services. Too much of their knowledge on safe sex is based on myths and misconceptions from their peers, some said. Misinformation, together with the high levels of poverty in the rural areas and inadequate attention from their parents, were seen as the major causes of teenage pregnancy.
Some young people said that abstinence is the best choice for one to prevent teenage pregnancy. "Pregnancy is not airborne," said Kaddu Ssubi Jeffrey. "Early pregnancies do not only arise from defilement, many girls get pregnant through consensual sexual relations without protection. We must abstain from sex and prevent teenage pregnancy until we are ready!"
Dr. Wilfred Ochan, the UNFPA Assistant Representative appreciated the young people for being vigilant and openly sharing their views on teenage pregnancy. He said that their participation is crucial in the campaign to end teenage pregnancy.  "It is important for young people to tell their own stories and to be heard. That is why we held the essay writing competition and are here today at the youth debate," he said, adding, "For too long, their narratives were written by us – the adults! Finally, young people have authored their own script on issues that affect them."
Young people present a Call to Action
Dr. Ochan called for government action on the issues recommendations by young people. He also asked for partnership with religious and cultural institutions, the media, and the private sector to ensure that young people are protected all round.
After the debate, young people handed over a Call to Action to the Guest of Honour Sulaiman Madada, Minister of State for the Elderly and the Disabled, asking for strengthened laws on sexual violence and early marriage, stronger programmes to keep girls in school, and improved access for sexual and reproductive health information and services for young people.
At the climax of the debate, winners of the essay writing competition and the bloggers that were voted best during the blogging competition on teenage pregnancy received awards including a schoolbag, filled with school supplies and other goodies.
Story and photographs by Els Dehantschutter and Martha Songa, UNFPA Uganda Country Office .
Contest Winners Announced
In total, 524 essays were received from young people located in different districts across the country, of which 60 per cent were from girls. In their assessment report, the panel of judges comprised of Ministry of Health, Straight Talk Foundation, and Reproductive Health Uganda, noted that in most essays young people linked teenage pregnancy to school dropout.
The eight winning essays were from:
Akuu Dillis, 17, Kwera Girls Secondary School, Apac District
Imen Brenda Gifty, 15, Kaabong Secondary School, Kaabong District
Awor Winnifred, 13, Mirembe Junior School, Makindye, Kampala
Ajok Brenda Obong, 18 , St. Mary's College Namagunga, Mukono Distric,
Wasike Conrad Johnson, 15, St. Mary's College Kisubi, Wakiso District
Kaddu Suubi Jeffrey, 16, St. Mary's College Kisubi, Wakiso District
Namoe Amalia, 19, Kaabong Secondary School, Kaabong District
Mayanja Raymond, 18, Kitante Hill Secondary School, Kampala