PORT-AU-PRINCE — Louis Anglade stood holding a medical chart at the entrance of a rickety tent in a teeming camp under a hot midday sun. The tall and skinny 20-year-old pulled out his brightest and warmest smile and begged. "Please, madam," he said.
The woman remained just inside the tent and shook her head sadly.
Anglade is one of 66 youth volunteers UNFPA has recruited and trained here in the science and art of assisting vulnerable people. Their mission is to help prevent severe malnutrition, especially among children, pregnant women and new mothers. The first step is to identify and register those who need nutritional supplements.
Anglade paused, and then explained to the woman that she could get additional food free of charge. With that encouragement, she came out of the tent and agreed to talk to him. With a sympathetic smile, he got to work, registering her and her children for supplementary food.
Until 12 January, when the powerful earthquake devastated the capital of Haiti, killing more than 200,000 people, and shattering the lives of countless others, Anglade was studying psychology. He hopes to eventually return to school and become a psychologist. "As the country rebuilds, it's going to need that kind of help," he said.
In the meantime, he is developing his ability to work with people in a time of extraordinary stress and vulnerability.
Enlisting young people
By recruiting and training young people, UNFPA is providing some structure for them, as well as capitalizing on their energy and enthusiasm. Young people, aged 15-24, represent 22.7 per cent of Haiti's population, and they could be a powerful force in Haiti's reconstruction.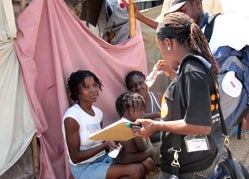 The programme that the youth volunteers are helping to implement is one that involves several UN agencies and partners working under the auspices of the Haitian Ministry of Public Health and Population. The aim is to improve the health of those living in makeshift shelters across Port-au-Prince by providing supplementary food for 53,000 children and 16,000 pregnant and new mothers. They can also provide referrals to additional services if they spot acute problems.
Working in teams of two, the youth volunteers visit selected camps, meet with local leaders and identify and register women and children who need food supplements. On the first day, the volunteers explain the programme, young children receive deworming medication, and vouchers for the food supplements are distributed. On the second day, the food is distributed. Every food distribution is accompanied by at least two members of the UN Police and two World Food Programme staff.
Pregnant and lactating mothers and children aged 3 to 5 years receive a three-week ration of high-energy biscuits, while younger children receive Plumpy Nut, a rich, peanut-based nutritional supplement. The success of the project will be evaluated after 20 days, said Nikette Ormélus, UNFPA's youth programme manager in Haiti.
American Idol to rally support for Haiti
To rally national and international support for Haiti's recovery, Kris Allen, the singer and 2009 winner of the popular singing contest and TV show, American Idol, toured Port-au-Prince today and visited several camps of earthquake survivors, including the one where Anglade and his counterparts were working.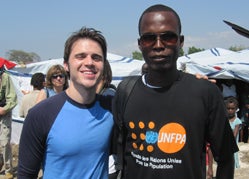 When he met Anglade, the 24-year-old pop star told the volunteer to keep up the good work.
"I know this is hard," he said. "I'm impressed by the job you and everyone else are doing."
A special episode of American Idol, featuring Kris Allen's UN Foundation-sponsored visit will air on the Fox network on Thursday, 25 February at 8 pm Eastern Standard time. Over forty million people are expected to watch the show and will have the opportunity to contribute to UN humanitarian efforts in Haiti.
After the pop star walked away, Anglade said he did not find the work UNFPA trained him to perform for his community difficult when compared to what others are facing.
"We were all victims of the earthquake," he said. "But compared to people who lost their lives, many of us are better off. So we have to help the most vulnerable."
— Dimitry Léger