For the past 13 years, countries around the world have been observing World Population Day on 11 July to raise public awareness and draw policy makers' attention to population issues such as poverty, reproductive health, education, and HIV/AIDS.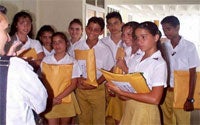 Literacy and Healthcare a Priority for Afghan Women
Commemorating the Day in Kabul, top officials said that literacy and health care were necessary for the survival and well-being of Afghan women and their families.
Minister of Women's Affairs, Habiba Sarabi, said the health of Afghan families and mothers was often adversely affected by having children too early, too late and too close together. In an interview broadcast on Afghan television, Ms. Sarabi stated that many mothers with large families and limited resources could not pay adequate attention to their children's education and welfare, and consequently, families were suffering from extreme poverty. Afghanistan had the second highest maternal mortality rate in the world: 1 in 15 mothers die during pregnancy and birth, most of them needlessly, due to a lack of health services. She said the Ministries of Health and Women's Affairs were working together to establish vocational training centres that offer literacy classes and reproductive health and family planning information. Ms. Sarabi said that illiteracy in Afghanistan was a major problem, and that her Ministry would work closely with the Ministry of Education to increase women's literacy rates "to save them from darkness".
The Deputy Minister of Public Health, Ferozudine Feroz, said that one of the major dilemmas for developing countries was accelerated population growth, which posed significant problems to people's welfare. He stated that many countries had a serious lack of resources and were therefore unable to meet people's needs.
Dr. Feroz praised UNFPA's reproductive health and family planning programmes and said that implementation of the programmes in Afghanistan was necessary and of great importance in the country.
Marked Drop in Unwanted Pregnancies in Cuba Thanks to UNFPA
At one of more than a dozen ceremonies and workshops held across Cuba on the occasion of World Population Day, experts spoke of the success of sexual education in Cuban secondary schools, aimed at reducing unwanted pregnancies and premature marriages.
At a meeting in Santiago de Cuba, experts and officials praised the progress of the programme, noting the drop in unwanted pregnancies and early marriages among Cuban school girls. UNFPA has been largely instrumental in the programme, which takes place in almost 1,000 schools, and supports the nation's sexual and reproductive health care services by providing IUDs, pills, injectables, implants and condoms for family planning and STI/HIV/AIDS prevention.
Population Awareness Film Draws more than 10,000 Attendees in Yemen
Over 10,000 people peered from their roofs and windows to watch a film in the city square of Sana'a, as part of Yemen's activities for World Population Day. The film highlighted issues on education, empowerment, reproductive health and family planning. Viewers clapped to girls' education songs, and suffered with a young husband worrying about his wife's delivery. In Yemen, one half of all the people are younger than 15, and the population will more than double in the next 20 years.
UNFPA helped a government committee develop the film to raise public awareness for population issues.
After the evening news, the film was broadcast on national television along with World Population Day event highlights. It was expected to travel throughout the month of July to different cities in Yemen and Yemenia Airlines will show a fifteen-minute film on World Population Day events.
Rallies, Processions and Discussion mark World Population Day in Bangladesh
The President of Bangladesh has called for the creation of greater mass awareness and for a social movement to ensure the success of the country's family planning programme. The uncontrolled growth in the country's population is a "grave concern to us", said the President in a message to mark World Population Day.
The World Population Day observance featured statements by senior Government representatives as well as a colourful rally with the participation of State Ministers, heads of non-governmental organizations, city commissioners, family planning workers and members of the public.
In a statement, the Bangladeshi Prime Minister, Begum Khaleda Zia, emphasized the connections among poverty, environment, and population. She said that the country could face an environmental disaster if the population growth rate was not reduced within a reasonable period. She also assured Bangladeshi citizens that the Government would take all possible measures to ensure reproductive health services at the village level. To generate even greater awareness, the Prime Minister released a commemorative postal stamp on the theme of World Population Day.
The UNFPA Representative in Bangladesh, Suneeta Mukherjee, commended the steps taken by the Government to promote girls' education and preserve the environment. Ms. Mukherjee cited the success achieved in the field of reproductive health and family planning, but raised concern that fertility remained the same despite an increase in contraceptive use from 45 per cent to 54 per cent from 1994 to 2000. She also noted the high mortality and morbidity in the country, but assured leaders that UNFPA assistance would continue.
Other activities held as part of the World Population Day included television and radio broadcast of special events and special discussion programmes focusing on health, gender and poverty. Participants included the Minister, the State Minister of Health and Ms. Mukherjee. Rallies, processions, university debates and discussions, contests and musical events were also held across the country. At the village level, events also took place in all the 464 thanas, 64 districts and six divisional headquarters of the country.