Read more about the crisis in Darfur in these related features:
SAKALI, South Darfur, Sudan — Awatif was teaching Arabic and the Koran in her classroom in her village when she heard planes overhead and felt the earth tremble as bombs began to drop.
When she rushed outside, the woman who supplied the school with water was lying with her head next to her body. Awatif scooped up the woman's three-year-old grandson and rushed home to find her own children.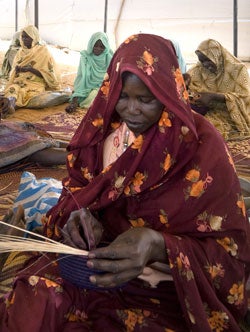 "I held that boy on my back, and held each of my children in either hand, and I ran," says Awatif, her heart-shaped face wrapped in a black headscarf and her eyes lined in kohl.
While making her escape, she found 20 children hiding in a market stall with an old man. "We tied a circle with a rope, with the man in front, me behind and the children in the middle. And we fled into the forest."
She eventually decided to return to reclaim what was left of her possessions. "When I got back to my house, the soldiers were destroying everything. I asked, 'Why are you doing this?' and one of the soldiers said, 'This woman must be beaten,'" recounts Awatif, who was assaulted to unconsciousness. "I thought I was going to die."
But she refused to give up. It took Awatif five days to get to Nyala, but she made her way to a camp for internally displaced persons, or IDPs.
"We came with nothing, not even a jar, not even a pan to cook with, just what we were wearing," she says.
Now she lives in a mud and straw dwelling constructed by hand, along with 15 members of her family. They receive food aid on a monthly basis, but Awatif says it is not enough. She makes bricks to supplement the family's income.
"Our life is not good," says Awatif. "The conditions are not comfortable."
UNFPA, the United Nations Population Fund, supports centres in several IDP camps in South Darfur where women could meet outside their homes and find refuge from the stresses of camp life in the companionship of other women. More than 2,000 women have benefited from the programme.
"Our houses are very small and hot," explains Awatif, who was selected as one of 14 women to organize and lead activities at the centre in her camp. "We didn't have a place to meet. Now there is a place for women to come."
Today, the centre, which cost about $2,500 to construct and outfit using locally available wood and straw, has over 360 members. A nominal monthly membership fee is charged to pay for guards and teachers, but those who cannot pay are not kept away. Math, reading and Arabic are taught to the women, most of whom had never had an opportunity to go to school.
Members also receive information on women's health and rights, including messages about violence against women. Today's discussion focuses on early marriage.
"The womb is not ready to carry a baby and is weak," Awatif tells about 30 captivated listeners as a dozen giggling children look on from outside. "How many times have we seen in the village when a girl of 13 loses her baby, because her body is not ready."
UNFPA has purchased pasta makers, which the women use to produce noodles for sale in the market. Drying pasta hangs from lines tied across the hall's thatched roof. Banners in Arabic, shredded grain bag decorations and hand-crocheted and embroidered crafts line the walls. Plastic chairs and mats cover the hard dirt floor to give the women a place to sit as the smell of incense wafts through the hot air.
Most importantly, the centre serves as a place where the women can decompress away from the various stresses of camp life.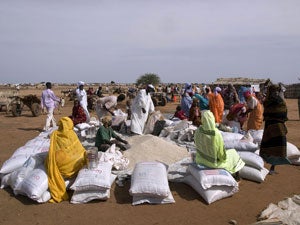 "Women are coming here to talk about their problems," Awatif says. "When you are just one person, it is your problem alone. When you tell [your problems] to a lot of women, it becomes all of their problems."
"In Darfur, the situation is quite stressful – the woman provides for the whole family," agrees Gladys Atinga, gender-based violence (GBV) programme officer for UNFPA in South Darfur. "The whole economic burden is on the women."
Members are increasingly reporting that their husbands are leaving them and stealing their ration cards to give to new wives met in the camps. Without a ration card, the former wives have no access to food aid to feed themselves and their children.
"If he wants to marry someone else, he takes the card so he can control the food that comes to the house," Awatif says. "Life is very hard then, so she has to go outside to work, making bricks or washing and cleaning for others. They are exposed to violence. Men also prey on the women. They even give her some money to take advantage of her. In one or two months she is pregnant again."
"This is considered violence," she adds. "God is very upset when this happens."
"When you are just one person, it is your problem alone. When you tell [your problems] to a lot of women, it becomes all of their problems."
--Awatif
Centre member Saida is struggling to support her four children after her husband left her, taking her ration card, to live with another woman.
"He takes the food and doesn't give us anything. He doesn't care about the kids," she says bitterly.
Domestic violence is steadily increasing inside the camps. Centre leaders will go to the home of a woman who is being beaten and talk to the husband. Sheiks, or elders, will also be enlisted to help if needed.
"Before the violence used to only be external. Now we have violence internally in the camps themselves," Atinga says. "The camp, which was supposed to be a safe haven, is no longer a safe haven. It has become a place of insecurity."
A camp sheikh credited men's frustration at being stuck in the IDP camps for years on end for the increase in violence.
"On the land, we had lots of opportunities," he says. "When we came (here), we became closed in. We lost hope. You're a man, you have to feed your family and you can't. There's pressure on you – it becomes a conflict between you and your wife."
Still, the biggest danger lurks for women leaving the confines of the camp.
"If a woman goes outside the camp and has been attacked, we try to reassure them that this happened to a lot of people, and you are not alone," Awatif says. "If anything happens outside of the camp talk to your 'sister' and go to the doctor so you don't get sick or pregnant."
— Angela Walker