MASIAKA, Sierra Leone — For Mariama Bangura, the peace that followed a decade of bloody civil war in Sierra Leone was almost as devastating as the conflict itself.
Mariama, now 25, was spirited away from her home in Masiaka seven years ago after rebels attacked the town.
"The rebels, they would go into the bush and then attack again and again," said Mariama, whose mother was killed during the brutal fighting. "I was captured by the soldiers and taken away for five months." The rebels made her to do all the cooking and fetching of water. She was repeatedly raped by her captors.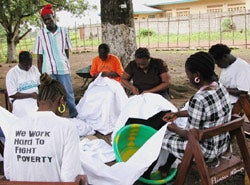 Many of the young women who survived the civil war in Sierra Leone suffered sexual abuse during the war or were kept as 'bush wives' and dragged across the country as the war fronts shifted. Low self-esteem, depression and infection are common outcomes of the experience. Throughout Sierra Leone thousands of girls and women who experienced sexual violence, trauma or dislocation need help in putting their shattered lives back together.
"Some of these girls have seen real brutality, with relatives killed in front of them. When the war was declared over, times were still hard. They used to exchange sex for biscuits and food," said Mohamed Conteh, who helps run the project. "It's very difficult for them to talk about it. They don't want to admit they had to sell themselves, but they had to survive."
Sierra Leone's civil war killed an estimated 60,000 people and maimed thousands more. Almost two thirds of the population were forced to leave their homes. For many, survival sex work became the only source of income. Deprivation continued even after the end of the war in 2001. "After the war, I never had enough food," Mariama explains. She was so desperate that she would often barter her body in exchange for a box of biscuits.
Today, the future is looking brighter for Mariama. She is among the first participants in a pilot project sponsored by UNFPA, the United Nations Population Fund. The project, Concern for Women Affected by War in Sierra Leone (CODWASL), is helping young women, like Mariama, reintegrate into society and learn valuable life skills, including the knowledge and personal empowerment that can help them protect themselves against HIV.
"Most families were uprooted during the fighting. Internally displaced people from the countryside settled in the area. Women fleeing the fighting became very, very destitute," said Dr. Mamadou Diallo, former UNFPA Representative in Sierra Leone. "This pilot project gives them a sense of belonging. They feel like they now have a family. They feel very proud that there is now meaning to their lives."
Every three months, counselling sessions help participants come to terms with the abuse they have suffered. Another important facet of CODWASL's work is educating young women about reproductive health and HIV prevention. Although Sierra Leone has only a 5 per cent HIV prevalence rate, conditions are ripe for transmission of the virus.
"HIV/AIDS could have a potentially devastating impact, not with the numbers but because of other factors on the ground. You have a country where almost half of the population were uprooted and forcibly displaced in the last 10 years, which can foster high-risk behaviour," Dr. Diallo said. "These destitute women are now being given the opportunity to earn a living and also get quality reproductive health care and HIV prevention education."
A guest to the project is welcomed by dozens of singing and clapping girls, wearing crisp blue skirts and t-shirts with the centre's logo and the motto, "We work hard to fight poverty." Rich green, purple, brown and orange tie-dyed fabrics made by young women learning the craft are on display. Other women are trying their hand at catering or hairdressing.
Many of the girls in the project are attending school for the first time, an opportunity unavailable during the war and out of reach for many who could not afford the fees. Now they have the chance to learn basic math and writing skills.
"I want to be self-sufficient," said Mariama, who is learning tailoring. "I'm very happy I can earn money and learn a skill. I'm trying to forget about the war."
To date, 36 girls and young women have completed skills training and a literacy course that includes information on reproductive health. CODWASL also operates a farm in nearby Makambie, where more than 100 women cultivate cassava on 10 acres of land.
"When they have a good harvest, they don't waste it – they will sell and use the money to pay their children's school fees, buy books and medicine and provide for the daily activities of the home," said Conteh. "If women are empowered, I believe things will change here in Sierra Leone. 
— Angela Walker