Helen Ditsebe-Mhone is an outspoken advocate of the need to take action to fight the HIV/AIDS pandemic. This tall, robust-looking entrepreneur has a compelling reason for doing so – Helen is one of only two-dozen women in Botswana who have "gone public" with their HIV positive status. In an effort to help other women deal with the infection, she founded an NGO called the Botswana Network of People Living with HIV/AIDS (BONEPWA). All members are women and all are HIV positive. Founded in 1999, the group now has over 100 members, with nearly as many volunteers. The women meet every week for therapeutic workshops where they share problems, concerns and experiences. The atmosphere is positive and the talk constructive.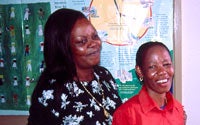 "We support each other like a family," says Helen. "Before I set up this initiative, there was nothing like it. No support groups existed for HIV positive people trying to cope with the awful reality of the disease and their own mortality. But we have made great progress in bringing this disease and its consequences out into the open."
Botswana, like much of the rest of sub-Saharan Africa, is in the front line of the war against AIDS. The disease has spread silently and all too swiftly through the population of this southern African nation that sits atop South Africa. UNAIDS estimates that one-third of Botswana's sexually active population (between the ages of 15 and 49) are infected with the virus that causes AIDS, one of the highest rates in the world. About 85 persons are infected with HIV every day (out of a population of 1.5 million) and one in eight infants are infected at birth.
" Because of the tremendous social stigma associated with AIDS, it took me years to admit to it. And I lost many 'friends' as a result of going public with my HIV positive status. Many people cannot face the consequences. "

--Helen Ditsebe-Mhone
Helen's own story is all too familiar. "I was diagnosed HIV positive in 1993," she explains. "It was a terrible experience. I went through all the stages – deep depression, total denial and finally acceptance. But the worst problem was how to tell my children. It took me two years to tell them and shortly thereafter I went public with my HIV status."
Part of the problem is that the virus is affecting more women than men; a trend true for all of sub-Saharan Africa. However, women, both married and unmarried, don't have the power and negotiating skills to protect themselves against HIV. "We are fighting to change this," says Helen, her jaw set firmly as she talks. "It is important to empower both partners together to fight AIDS. But at the same time, women need to be able to take charge of their sexual lives and insist, for instance, that their partners use condoms or take other preventive measures. Women are bearing the brunt of this pandemic."
This is one of the conclusions of a new report – Women and HIV/AIDS: Confronting the Crisis – published jointly by UNFPA, UNAIDS and UNIFEM. Currently some 36 million people between the ages of 15 and 49 are living with HIV/AIDS. Though AIDS cases are rising in Asia, particularly in India and China, it is a national crisis in most of the countries of sub-Saharan Africa. With only 10% of the world's population, sub-Saharan Africa has 70% of all HIV positive people. The majority are women and girls, who comprise just under 60% of the total number of infected people in the region.
Prevention is key, but many women and adolescent girls do not have the knowledge or means to prevent HIV infection. "Girls and women are highly susceptible to HIV infection, both biologically and as a result of gender inequality and discrimination," states the report. "Globally, more than 80% of young women do not have sufficient knowledge about HIV/AIDS. The silence surrounding issues of sexuality, the realities of gender inequality and the lack of education about sexual and reproductive health are putting girls and women at risk."
Fast Fact  
UNAIDS estimates that one-third of Botswana's sexually active population (between the ages of 15 and 49) are infected with the virus that causes AIDS, one of the highest rates in the world.

View statistics and indicators for Botswana>>
The report, released officially on July 14 in Bangkok, asserts that the traditional ABC approach – Abstain, Be faithful and use Condoms, though successful in some countries, needs to be expanded to meet the evolving needs of women and girls. "For many, it is not as simple as ABC," underscores the report, "because [women] often lack social and economic power to negotiate fidelity or condom use and are subject to gender-based violence." The ABC approach will only work for girls and women if it is part of a package of interventions designed to give them greater access to gender sensitive information and services and empower them to make decisions regarding their sexuality and to claim their rights.
Changing behavior is another challenge that needs to be addressed. Although UNFPA surveys in Africa show that up to 80% of men have some knowledge of how AIDS is contracted, they are not altering their sexual behavior. Failure to change behavior is aggravated by the conspiracy of silence that has surrounded AIDS. Because infection carries such tremendous societal stigma many people who are HIV positive do not go in for testing or counseling, and the course of the disease continues to take its toll.
"Because of the tremendous social stigma associated with AIDS it took me years to admit to it," explains Helen. "And I lost many 'friends' as a result of going public with my HIV positive status. Many people cannot face the consequences."
Education is key to the fight against AIDS. It can help eliminate prejudice and myths about how the disease is spread and erase the social stigma associated with the disease. Studies have shown that educated women are more likely to know how to prevent HIV infection, to delay sexual activity and to take measures to protect themselves when they do become sexually active. Education also accelerates behavior change among young men, making them more receptive to prevention messages aimed at reducing risky behavior.
A recent analysis suggests that if all children received a primary education, the economic impact of AIDS could be greatly reduced. In Botswana, for instance, the economy is projected to be one-third smaller within 15 years than it would have been without the impact of AIDS on the workforce.
Providing universal primary education would prevent around 700,000 cases of HIV in young people every year. In one school district in Uganda, where students learn about AIDS in the classroom, the number of students aged 13 to 16 who reported they were sexually active dropped from more than 60% in 1994 to less than 5% by 2001.
Despite these gains, gender-based violence is on the rise in much of sub-Saharan Africa and elsewhere. It is also one of the leading factors in the increased rates of HIV infection among women. "Unless the link between the two is broken," points out the report, "it will be hard to reverse the epidemic. Promising approaches include: strengthening the health care system, human rights protection, education, legal reform and community mobilization."
Helen Ditsebe-Mhone managed to build a community movement in Botswana in order to "throw light on the nightmare engulfing my country". As a result of her efforts and those of others, such as the African Youth Alliance, which is active in Botswana and three other countries in the region, there is now increased awareness of the disease and its transmission routes, infection rates among youth are dropping and through initiatives like BONEPWA, networks have been established that help women cope with their HIV positive status.
As a testimony to her work, Helen was awarded the 2003 Poverty Eradication prize by the United Nations Development Programme (UNDP) for creating "an international model of how to support those living with HIV/AIDS and their communities."
According to the joint report by UNFPA, UNAIDS and UNIFEM, strategies to reverse the pandemic cannot succeed unless "women and girls are empowered to claim their rights," such as the right to accurate and timely information on how the HIV virus is transmitted, the right to legal protection, the right not to be abused, and the right to access gender sensitive services.
In Botswana, Helen Ditsebe-Mhone and other AIDS activists couldn't agree more. They managed to get the government to take a comprehensive approach to fighting AIDS, one based on community involvement and education, with a focus on youth, particularly adolescent girls. "Our young people need to get involved in this fight if we are going to win it," she concludes. "They are the cornerstone in any viable HIV/AIDS prevention strategy."
--Don Hinrichsen