STUNG TRENG, Cambodia — To reduce the dangers of childbirth in remote rural areas, high-risk mothers here are being encouraged to stay in a safe and clean 'waiting home' before delivering in a health facility with skilled birth attendants.
In 2003, the Volunteer Service Organization established the house next to the referral hospital in this provincial capital. Since January, UNFPA, the United Nations Population Fund, has supported the effort to increase attended births. In the first two months of this year, there were 20 deliveries at the hospital.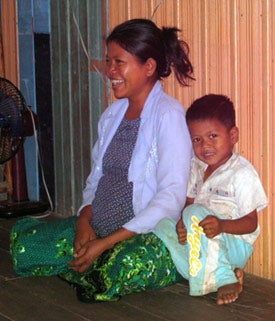 Women in poor health—due to anaemia or malaria, for instance—or those with histories of difficult deliveries may stay here in the weeks leading up to childbirth.
Hang Boran, 29, was referred to the waiting home by a midwife in Koh Sma village, one to two hours away by car. Now in her fourth pregnancy, she is being treated for malaria, which she contracted in her eighth month. In her last delivery, assisted by a traditional birth attendant, she experienced a potentially fatal complication. Luckily, she was referred to a health facility and survived.
Her husband and youngest child are staying with her in the waiting home, where three meals a day are provided, along with malaria treatment, prenatal care and health education sessions by staff from the referral hospital.
"My family and I are happy to stay here, and I hope my fourth delivery by a professional midwife will go very well," said Hang. "I don't worry any more as the midwife will help me have a safer delivery here." Her husband added, "Though we are away from home and I have had to stop working during this time, I am hopeful that my fourth child will be healthy and my wife will be safe."

Maternal mortality in Cambodia is high: 472 death for every 100,000 live births, according to the 2005 Demographic and Health Survey. While maternal health has improved somewhat in recent years, much more needs to be done to improve women's health, particularly in the northeast and northwest parts of the country.  
— Sophanara Pen