Read more about the crisis in Darfur in these related features:
Dispatches from Darfur: Caring for the Ones who Care for Others
Darfur Women Fear Giving Birth at Night, Without Midwives to Help
UNFPA Provides Emergency Supplies in Darfur for Basic Needs
The Women's Centres of Darfur Offer an Oasis Away From the Hardship of Camps
MANAWASHI, South Darfur, Sudan — The rains have come to South Darfur and bright patches of green occasionally dot the barren landscape. But in Manawashi the ground remains dry and parched.
It is here that Zahara, a mother of three, decided to make her home after fleeing the attack on her village two years ago in which her husband, Ahmed, was killed.
"They found him, and they killed him," she recounts sitting in the mud and straw hut she now calls home. "I saw the horses and the camels, and I took my two children and fled. I came here without anything, just my children. They took everything. Then they burned the whole village."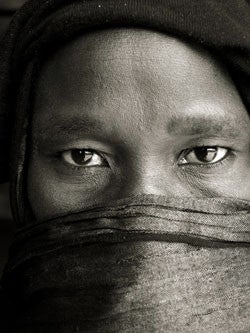 When she was seven months pregnant with her third son, Sabir, Zahara set about building a place for her family to live. Villagers gave her thatch for the roof. She made the bricks herself over a 10-day period. While trying to fix poles to support the roof, she fell. Sabir still carries the dented scar from his injury in the womb.
When Zahara went into labour, her FGM/C scar had to be sliced open by a traditional birth attendant (TBA), to allow the baby to be delivered.
"I had no other options," says Zahara, her toddler fumbling at her breast to be fed. "I suffered."
Zahara has managed to make what began as a makeshift shelter into a home. A teapot hangs from the straw roof near the burning embers of a fire, which add to the stifling heat. Pans, dishes and glasses dry on a woven bench that serves as a bed for the family. Jerry cans and clay pots full of water and bags of lentils, grain and vegetable oil stand near the open doorway next to a tin pan full of soapy water. Two small windows allow a bit of light to shine into the dim interior. 
To help supplement the food aid she receives, Zahara joined other internally displaced women to search for animal fodder, which she could sell in the market. Walking about two hours outside of Manawashi, she and a group of seven women were attacked by men on camels.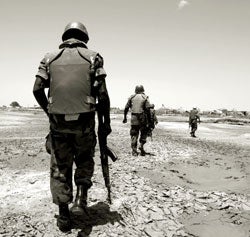 "They tried to rape me, but I fought hard," she explains. "One kicked me and told me to lie on my back, and I refused. He took the butt of his gun and hit me in the kidney. It was very painful, and I lost consciousness."
Zahara shows us the crumpled police report that she made following the April assault. "Still I am suffering from the injury," she says. "I cannot do hard work. I cannot go long distances."
Now she is weaving straw mats to bring some extra money into the home. But it takes her a week to finish one mat, and she earns only about $2 for the intensive labour. "That is nothing. … I want to go back to my village, cultivate my land and live in peace," Zahara wishes wistfully. "This is my hope, but I don't think it will happen soon."
In response to the attacks on women, the African Union peacekeeping force and Sudanese government police have organized firewood patrols accompanying the women to protect them during their forays outside the camps.
"NGOs and UN agencies were complaining that women were subjected to abuse and rape by the men. They became vulnerable targets when collecting firewood even resulting in death," says Colonel Col. Oladipo Jap, an AU sector commander in South Darfur. "This is the only mission where peacekeeping forces and police carry out escorts to protect women who are vulnerable."
"They chased after me and caught me. Then they raped me...I have hope for the future, but I can't forget."
--Zahara
This August, the Sudanese Government backed a UN resolution to send a peacekeeing force of up to 26,000 troops and police under a joint UN and African Union mandate, which would make the Darfur mission the largest peacekeeping force in the world. More than 200,000 people have died in Darfur since the conflict began four years ago and over 2 million remain internally displaced.
In support of these efforts, UNFPA, the United Nations Population Fund, is working at the grassroots to combat gender-based violence (GBV). The South Darfur office supports a GBV forum composed of men, women and young people from host and camp communities. The forum meets biweekly to discuss and respond to security issues faced by women and girls in the IDP camps.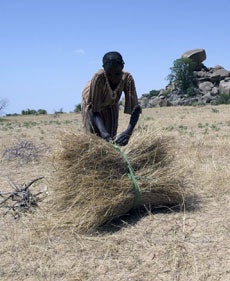 "Women need to be able to gather firewood to feed their children and sell for them to survive," explains Gladys Atinga, GBV Programme Officer for UNFPA in South Darfur. "We want to make sure that these women can earn their livelihoods in safety."
Twenty-year-old Zahara, another IDP who lives in the same village in Manawashi, was attacked and raped three years ago, when she was foraging for firewood with about 20 other women.
"The others escaped," says Zahara, an orange veil pulled down low over face obscuring her features. "They chased after me and caught me. Then they raped me."
Her grandmother and other women searched for her and brought her bruised and battered granddaughter back on a donkey.
They took her to a nearby clinic for treatment. UNFPA provides the clinic with kits for post rape care, including post-exposure prophylaxis with antiretroviral drugs to prevent HIV transmission, as well as other maternal and reproductive health services. Medical personnel have been trained on post rape treatment.
Young women who conceive after being raped may use extreme methods of ridding themselves of an unwanted pregnancy. A doctor at the Manawashi clinic reports the case of a young woman who died after ingesting iodine in an attempt to abort the foetus. Babies that are conceived in rape may be abandoned or even killed by their mothers.
Zahara slept for ten days following her attack. Although her physical injuries have since healed, she still carries the emotional scars from the rape. "I will never go out. I am too afraid," she says. "I have hope for the future, but I can't forget."
— Angela Walker