WASHINGTON — Population growth in the United Stated this year slowed to a rate not seen since the 1940s, says a recent Census Bureau report.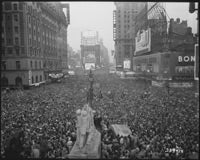 The population grew by 2.8 million people from April 2010 to July 2011, estimates reveal, with the annual increase, about 0.7 per cent (calculated for the year ending in July 2011), being the smallest since 1945, the last year of World War II. The poor economy and dropping immigration numbers are the main reasons behind thelagging growth, and the population currently stands at 312 million, according to the Census.
Read the full report in The New York Times.