HANOI, Viet Nam — Swallowed cocaine pellets in Colombia and exploding trucks in Iraq may seem a world away from the struggles of rural migrants in Viet Nam, but internationally-acclaimed filmmaker Joshua Marston finds that films about the very personal and localized battles of individuals often hold messages that ring true across the globe.
This was certainly the case in Viet Nam, where Marston attended a film festival hosted by UNFPA, the United Nations Population Fund, to raise awareness of the struggles and contributions of the world's 200 million international migrants. Marston's Oscar-nominated feature film "Maria Full of Grace" was one of seven films shown during the week. It is the story of a young Colombian woman's search for her place in the world. When faced with the limited opportunities of her hometown, Maria decides to take a potentially fatal job as a drug mule, swallowing cocaine pellets and smuggling them into the United States in her stomach.
"Showing the movie in various countries around the world, I am continually impressed by both the overlap and the diversity of the responses I get," Marston says. "One of the things I hope Maria Full of Grace does is stimulate thought – on the subjects of immigration, the drug trade, and the drug war."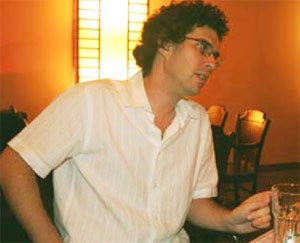 In Viet Nam, Marston was fascinated to find the audience making a connection between Maria's journey and the movement of people from towns and villages to its rapidly growing urban centres, especially Hanoi and Ho Chi Minh City.
An increasing number of young Vietnamese women are leaving their rural homes and the limited opportunities they have in the hope of good jobs and improved salaries in the country's big cities. Urbanization and the prospect of an abandoned countryside are becoming an increasing concern as Viet Nam's economic reforms foster rapid growth that could leave the most vulnerable behind.
"For me, it's a very challenging problem: how to modernize and globalize, on the one hand, and how, on the other hand, to spread wealth – both demographically and geographically – so that families and communities are not torn apart," says Marston.
"To hear that people in Viet Nam see similarities in [Maria's] plight underlines for me that we are dealing with different facets of a single trend," continues Marston. "And that trend is globalization. I think when people are able to see a story from a vastly different place and say, 'Hey, that looks like what is happening here,' then it increases the chances that people see the bigger picture of what is going on and recognize the larger forces at work."
The California-born writer and filmmaker is fascinated by individual accounts of people moving from one culture to another, and according to Marston UNFPA's 2006 State of World Population report, launched at the film festival, contains a plethora of ideas for possible movies. "What one realizes reading through [the report] is just how vast, how complex, and how immediate the problems of human migration are," he observes.
Currently, Marston is working on a project about a different kind of migration: a film about an American truck driver who travels to Iraq to work as a private contractor for an oil company.
"It is a story about the civilian experience of the occupation – both American and Iraqi civilians," says Marston. "It is a story of one American man having his simplified, black-and-white assumptions about the world (and Iraq) shattered, made more complex."
Marston's interest in the movements of people is accompanied by a curiosity about changes over time. His journey to Viet Nam in October was Marston's second. His first visit took place 10 years ago, when bicycles still dominated the streets of the capital. Will the unassuming filmmaker return once more?
"I will say that while I was in Viet Nam I was able to meet some very interesting people," smiles Marston. "I would love someday to come back to Viet Nam to shoot a film."
***
Unregistered migrants are a focus of UNFPA's current cycle of assistance to Viet Nam until 2010. At the end of December 2006, UNFPA-Viet Nam and the General Statistics Office published three studies on internal migration. You will find these on the UNFPA Viet Nam website.