AL ZARAYEB, CAIRO — Garbage is everywhere in this part of the city. But after a few minutes, the acrid odor begins to subside as one's nose becomes accustomed to the stench. It's a good thing, too, because in Al Zarayeb, part of the Manshiyat Nasser slum in Cairo, trash is a treasured source of income. It is hauled into houses, carefully sifted through and then resold.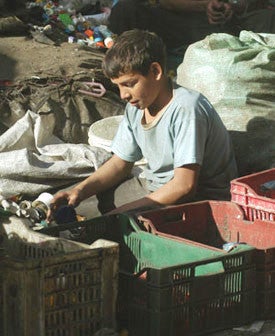 Every morning, men from the community transport piles of garbage, including medical waste, into their houses, where women and girls pick through them looking for recyclables. Plastic and glass are manually separated, then washed, cut, melted and sold to manufacturers who transform them into all kinds of consumer products, including bottles and chairs. Vegetables, fruits and food remains are fed to goats, pigs and chickens.
Al Zarayeb is also where the UNFPA-supported mobile Voluntary Counselling and Testing (VCT) clinic is parked today. A steady flow of visitors passes through the van's doors. In addition to being worried about drug addiction and AIDS, clients are concerned about one particular occupational hazard.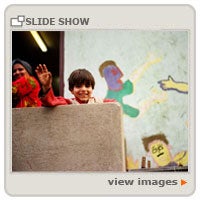 While sorting through the garbage, fingers get pricked – often by discarded syringes and other sharp objects – exposing people to hepatitis and other infections, including HIV. That is why Dr. Mohammed Ali, the attending physician of the VCT clinic, is always so busy when his van is parked in the slum. "Hepatitis B and C live outside of the body for up to 10 days," says Dr. Ali during a break between two clients. "So people of this community are adamant on finding out about their status." About 16 per cent of the Egyptian population is infected with hepatitis C, which makes it a national priority.
Halawethom Gerges, who is in her twenties, has just stepped out of the vehicle with a smile on her face. "My fingers often get pierced by syringes while handling the trash," she says. "My husband learned about this clinic from an educational session in church, so he came to the van to get tested. He then asked me to do the same. I am glad we are both safe."
The mobile clinic at Al Zarayeb is one of a fleet of nine that were first sent out in March 2005 to serve high-risk groups in various Egyptian communities. UNFPA paid for the vehicles – $70,000 each – and also provides technical advice, trains the clinic teams, and pays additional overhead, such as for testing kits and other supplies. The mobile testing units are the first of their kind in the entire Arab world.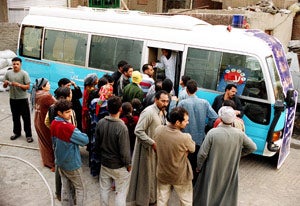 "We are extremely happy with the results of these mobile VCT clinics," says Faysal Abdul Gadir, UNFPA Representative in Egypt. "We are also happy that, in just a short period of time, we were able to overcome the stigma that haunts vulnerable groups by gaining their trust and guaranteeing their privacy."
Initially, injecting drug users and others suspected of being HIV-positive, including men who have sex with men, would send others to the clinics to check them out before going there themselves, says Dr. Ihab Abelrahman, who monitors the nine clinics for the National AIDS Programme at the Egyptian Ministry of Health. "They wanted to make sure that their identities would be kept confidential." Now, he adds, each of the clinics receives an average of 16-20 clients between 9:30 and 3 every day.
The VCT mobile clinics move from one neighbourhood to another on a weekly basis, basing their schedule on a 'risk map' that identifies the possible locations of vulnerable groups, according to Dr. Abdelrahman. Would-be clients are informed of future stops through community outreach and awareness campaigns. A hotline also provides scheduling information.
The van parked at Al Zarayeb this week is composed of three parts: the driver's cab, completely separated from the rest of the vehicle; a counselling compartment in the middle; and a blood-testing lab in the back. In addition to the driver, the team includes a physician, a counsellor, a nurse and a health instructor.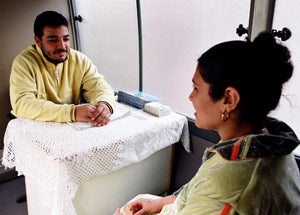 Before entering the vehicle, clients are ushered into a waiting area at the nearby local community centre, where the health instructor provides information and prevention messages through an audio-visual presentation.
Clients then enter the vehicle, where their blood is tested and where they undergo two counselling sessions. Before the test, the counsellor asks about client habits and other related information. After about a 10- to 15-minute wait, clients go through post-test counselling, including notification of results.
"Those who test negative receive long post-testing counselling to remind them not to be complacent and instruct them on how to remain disease-free," says Dr. Abelrahman. "Those who are found to be positive, on the other hand, go through a very brief session; they are often in shock and wouldn't want to listen to anything."
"People confide in me because I do not ask them about their names or ages, nor do I keep any records," says counsellor Mustapha Mohammed Riyad from behind his small desk inside the VCT mobile clinic. "I try to change their behaviour, but I don't care about their identities."
It is now past 3 pm, and people are still gathering around the mobile clinic to get tested. Dr. Ali, the attending physician, tries to turn them away by assuring them that he'll be back in the morning. "They all want to make sure they are fine," he says. "Besides, it's a free service."  
— Omar Gharzeddine