UNFPA Goodwill Ambassador, Alfred Biolek, recently took part in the most popular German television quiz game show entitled "Wer Wird Millionaer?" (Who Wants to be a Millionaire?). He participated in a particular airing of the programme, which was a special charity edition where only celebrities appeared and raised funds for their respective projects. On average, over 11 million people tune into the programme and at times, the numbers exceed 16 million. Mr. Biolek won 125,000 euros and he received the second best score with five other contestants on the show.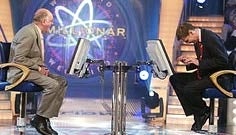 Mr. Biolek works with the UNFPA's Face to Face campaign partner known as the German Foundation for World Population, DSW (Deutsche Stiftung Weltbevoelkerung), and is the Fund's Goodwill Ambassador in Germany, fighting for the rights of adolescents in the areas of reproductive health care as well as promoting educational information and services needed to prevent HIV/AIDS and unwanted pregnancies.
During an exchange of introductions with show's host, Mr. Biolek gave an overview of the current global adolescent sexual and reproductive health situation. He mentioned the problems of unwanted pregnancies, as well as the HIV/AIDS epidemic in the world. In addition, he highlighted the work of the UNFPA.
Mr. Biolek stated that the United Nations had many agencies that were vital to the international community. The UNFPA, he said, was an especially helpful organization, which assists countries address their population problems, such as unwanted pregnancies and HIV/AIDS. It does a very good job, he added.
--Britta Mohmeyer/Adam Stern
Contact Information:
William A. Ryan
Tel.: +66 2 288 2446
Email: ryanw@unfpa.org