This year's Søren Gyldendal Award has been presented to UNFPA Goodwill Ambassador and best-selling fiction writer, Hanne-Vibeke Holst, in Copenhagen. Gyldendal is the largest Danish publishing house.
Gyldendal literature director, Johannes Riis, said of Ms. Holst's selection: "An authorship which, first and foremost, deals with gender and fate. Hanne-Vibeke Holst has investigated the theme of power relations between the two genders - with all its implications and overtones – with greater and greater commitment and aptitude."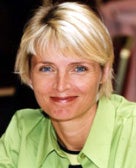 Ms. Holst is a well-known and popular Danish columnist, television journalist and best-selling novelist. Her novels deal with modern women, their new options and old problems in a complex world of challenge, freedom and love. The author's books have been translated into several languages, such as German, Dutch and Swedish.
In Denmark, she is known and respected as an outspoken advocate for women's rights and for common global interests. She serves on the Board of Governors of the Danish Family Planning Association. Ms. Holst has written articles on women's issues for the Face to Face campaign, including several stories and columns on women in Africa, Latin America and Asia.
"I see this award as a public recognition of my work," said Ms. Holst. "This award gives me a sense of increased responsibility to continue my work of advocating for the rights of women."
The award winner is working on a book of in-depth portraits of extraordinary women in selected developing countries.
"The stories are about women's strengths – the strength they show in their everyday effort to actively make a difference for their own and many other people's lives," said Ms. Holst. "But, they are also about the enormous potential held by these women who continue their work in spite of life's challenges."