UNITED NATIONS, New York— On a mission to Haiti this week, UNFPA Goodwill Ambassador and Portuguese television personality Catarina Furtado toured a number of projects supported by United Nations agencies, including UNFPA, focusing on issues of reproductive health, gender, youth and education. During the mission, she filmed a report that will be shown on her popular television show in Lisbon.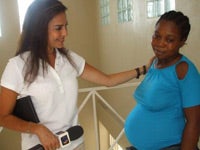 Among the UNFPA-supported projects that Ms. Furtado covered was the Maternity of Croix-des-Bouquets, where she witnessed the first birth by 22-year-old Ylene Oris. The 24-hour operating maternity centre, about 25 kilometres north of the capital, Port-au-Prince, performs 250-300 deliveries each month and provides a wide variety of services, including prenatal care, monitoring of pregnancy and childbirth, complicated delivery care, voluntary family planning and support for victims of sexual violence. The facility's excellent reputation has resulted in a steady increase in attendance—with patients streaming to it from as far as Port-au-Prince. UNFPA has been contributing to the centre's operating costs through funding from the MacArthur Foundation.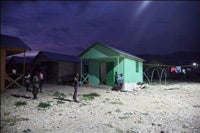 At another facility, the Corail Cesselesse Camp in Port-au-Prince, which hosts thousands of earthquake–affected people, Ms. Furtado interviewed residents about their daily lives in displacement. A young woman told Ms. Furtado about the importance of the solar lamps installed by UNFPA at the camp. "When it gets dark, they light up the camp," she said. "When women go to the bathroom or shower, they are less vulnerable, less exposed to violence, specifically sexual abuse."
Beyond preventing gender-based violence, the lamps allow some women in the camp to carry on with their informal businesses at dusk and to participate in social activities. They also allow students to study in the evening.
Ms. Furtado said she left Haiti with an image of the dignity that people maintain, despite all their difficulties. "This dignity, this resistance, this will to live—that was what impressed me most during the visit," she added.