LISBON, Portugal—Portuguese actress and UNFPA Goodwill Ambassador, Catarina Furtado, has been awarded Portugal's "Ordem de Mérito – Comendador," as part of her country's national day celebrations in June. She was honoured as an "example for the youth," commemorating her work "as a professional and as a UNFPA Goodwill Ambassador".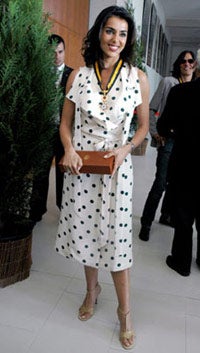 The honour is bestowed each year on individuals and institutions in the public or private sector, for outstanding service to their communities. This year, Portugal's President, Jorge de Sampaio, honoured about 60 people and organizations for their achievements worldwide. At only 32 years of age, Ms. Furtado is the youngest person to receive this distinction.
Since 2000, Ms. Furtado has participated in launching each UNFPA State of the World Population report in Portugal. In April 2001, in association with the Portuguese Family Planning Association, Associação para o Planeamento da Familia (APF), a local family planning association in Mozambique (AMODEFA), the Portuguese Embassy in Mozambique, and UNFPA representatives, she went to Mozambique and lent her support to government and non-governmental providers of sexual and reproductive health.
Joined by the Portuguese Parliamentarians Group for Population and Development, Ms. Furtado also visited community hospitals and help centres for young people throughout Mozambique. In 2002 she started a campaign with APF and the Rotary Club to buy a mobile sexual and reproductive health unit in Sao Tome and Principe. She went last year to present the unit to a local association as part of a ten-day tour.
Ms. Furtado is well known for promoting reproductive health and rights in Portugal and Lusophone countries. As a voice for UNFPA and its mission, she visits schools, field-projects, parliament, and national and international conferences. In addition she has written articles for books and newspapers about reproductive health and rights, with a focus on adolescents, youth pregnancy, safe motherhood, HIV/AIDS, gender, and family planning.
—Lisa Jamhoury