Secretary-General Ban Ki-Moon and UNFPA Executive Director Babatunde Osotimehin visited Nigeria this week to promote 'Every Woman, Every Child', a global campaign for women's and children's health.
The mission included visits to a hospital and a health-care centre where major improvements are being made to reduce country's maternal and child mortality rates. Before this appointment to UNFPA, Dr. Osotimehin had served as the Minister of Health of Nigeria.
"Health systems that work for women and children are health systems that work for all," the Secretary-General said when visiting the Maitama Hospital in Abuja.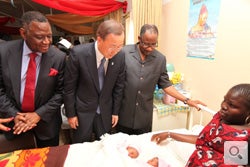 Mr. Ban commended the Nigerian Government for investing in the health of its people and stated that the United Nations would support these efforts.
"You are strengthening health management information systems, and increasing the number of service providers, including community health workers and midwives. These efforts are bearing fruit. Let us build on them to build health and wealth throughout Nigeria, for all Nigerians," said Mr. Ban.
While in Nigeria, Mr. Ban also met with the country's top Government officials, including President Goodluck Jonathan.