KATSINA, Nigeria—For Dr. Gloria Esegbona, participating in the "Fistula Fortnight" is like coming home.
The 30-year-old obstetric gynaecologist was born in Britain to Nigerian parents and is one of four international surgical volunteers taking part in the two-week pilot project in northern Nigeria. "It was something I wanted to do," said Dr. Esegbona, whose family originates from the Delta State of Nigeria. "I feel I'm Nigerian. I'm coming home to help."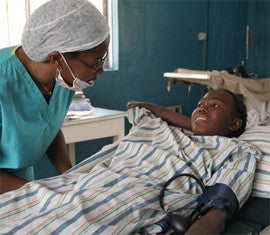 Nigeria has one of the highest rates of fistula in the world with as many as 800,000 women living with the condition in the country. Each year, an estimated 20,000 new cases arise. Obstetric fistula tends to occur in countries with high maternal mortality rates. In Nigeria, a woman has a one in 18 lifetime risk of dying from complications of childbirth. In Europe, that figure is 1 in 2,400.
"When I went back to Nigeria, I saw my father's patients and the disadvantages they faced," said Dr. Esegbona, who lives in southeast London. "That's when I knew that I wanted to be a doctor, especially a doctor helping women deliver their babies safely."
Obstetric fistula is a preventable childbirth injury that results when a woman endures prolonged obstructed labour without necessary medical intervention, typically a Caesarean section. The fistula injury often results in chronic incontinence.
"Even though I'm a doctor, I'm not only interested in my patients' physical well-being, but I'm also interested in these women's psychological and social lives," Dr. Esegbona said. "An African woman suffers from a lack of opportunity. We must promote education and awareness that she can have her fistula repaired and can get help."
Dr. Esegbona feels fate had a hand in bringing her back to Nigeria for the Fortnight She had finished her Master's and had been offered admission to some PhD programmes, but none seemed like a good fit. She was surfing the Internet when she found information on the global Campaign to End Fistula, originally launched by UNFPA in 2003. She contacted the UN agency and was urged to submit her CV for consideration for the two-week Nigerian "Fistula Fortnight," supported jointly by UNFPA, Nigerian Federal and State Governments, NGOs, the private sector and international and national medical volunteers.
"I wanted to come back to Africa. This is a hands-on way to help in what I see as my own country in an area where I have the skills to make a difference. I just feel like I fit in," said Dr. Esegbona, who has also worked in maternity units in The Gambia and Kenya. "I haven't found it overwhelming at all. When I go home, and can digest what these people are lacking here, then the impact will hit me. My dad passed away two years ago, and I feel like I'm carrying on his legacy of helping people."
Dr. Esegbona was especially touched by the case of 13-year-old Ubaida Surajo from Zamfara State, one of 10 women and girls treated on the first day of the Fortnight in Katsina. Ubaida was married at 12 and soon became pregnant. She laboured for four days before delivering her stillborn baby and began leaking two days after the birth.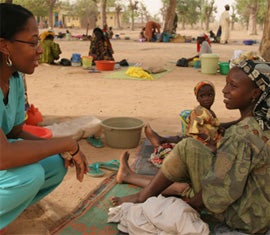 Ubaida found out about the "Fistula Fortnight" from neighbours who had heard about the campaign on the radio. Her father, uncle and grandmother brought her to the Babbar Ruga Hospital in Katsina, one of four participating hospitals. The other three facilities are located in Kano, Sokoto and Kebbi states.
"I'm so happy," said Ubaida, who, according to Chief Nursing Officer in charge of the Post-Operative Ward, Hajiya Nafisat Ade Ajagu, was recovering nicely from her surgery two days after her operation. "I'm grateful to the doctors, nurses and all the people involved who have helped me stop leaking."
Prevention is the key to ending fistula. Improving the quality and access to maternal health care could help save the lives of hundreds of thousands of women who die from complications of pregnancy or childbirth not only in Nigeria but also around the world.
Beatrice Eluaka is the focal person for Gender, Women's Health and Development for the Federal Ministry of Health based in Abuja. She said that the Nigerian Government, at both the federal and state levels, is committed to reducing maternal morbidity and mortality in her country.
"It's important to us because the health of mothers and children and indeed the general Nigerian population is essential for our development," said Eluaka, who was in Katsina to help oversee the progress of the Fortnight. "Fistula contributes a large portion of maternal morbidity. That's why we joined with UNFPA in this campaign."
UNFPA's strategy for safer motherhood includes skilled medical care for all women in labour, timely medical intervention for women who develop complications during labour, and access to family planning services to prevent unintended pregnancies and space birth.
"In the West, we're used to preventing disease. We're not used to cases getting to this stage. This is so preventable – they don't have to be injured or scarred," said Dr. Esegbona. "You're going to need fistula surgeons for many, many years, but it has to be combined with preventative aspects. I just hate to think what these women's lives would be like without this surgery."
--Angela Walker