TAULIHAWA, Nepal – "I often watch boys playing cricket on this ground. But today I caught a glimpse of girl cricketers in action," said Irfan Darji, a 13-year-old spectator at the final match in a trailblazing girls' tournament in Tulihawa, Nepal, on 26 October.
He found himself cheering for the Fewa team as local celebrity cricket commentator Nischal Shrivastav gave ball-by-ball commentary.
"I thoroughly enjoyed their match," Irfan said after the thrilling finale.
The tournament was not only ground-breaking for fans like him – it was a landmark event for the players and the whole community.
Organized by the government's Women and Children Department, UNFPA and the Cricket Association of Kapilvastu, the games were meant to raise awareness about the harms of child marriage.
They accomplished this goal – and much more. The tournament also crossed a new boundary for girls.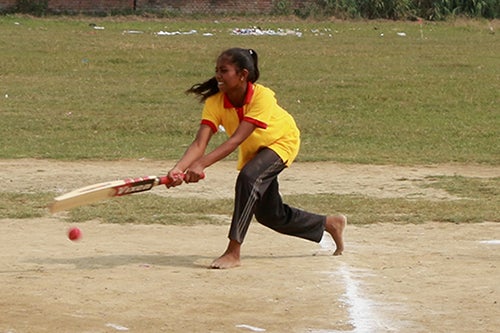 "This game no longer belongs to only boys," said 12-year-old Prem Sheela Mali. © UNFPA Nepal/Santosh Chhetri
"In the past, I was not given an opportunity to play cricket," said 12-year-old Prem Sheela Mali. "Cricket used to be boys' sport, but now more girls are coming forward."
Breaking down this gender barrier, she said, could help convince parents that girls should have other opportunities, as well.
Bowling out child marriage
Girls in Kapilvastu District face entrenched gender discrimination, and child marriage is widespread. According to the 2011 Census , 62 per cent of the district's girls between ages 10 and 19 are subjected to early marriage. (The national average is 41 per cent.)
Child brides are often forced to drop out of school, limiting their future potential. They also typically experience early pregnancy, which threatens their health and well-being. Young brides are also more vulnerable to abuse.
Some 56 girls came to the district capital to call for an end to child marriage.
Many came from UNFPA-supported girls' groups working to end this practice. Gudiya Chaudhary travelled 35 km to participate. "Using cricket as a tool to campaign against child marriage – a practice that many girls in Nepal sadly experience – attracted me," she said.
Some of the girls were themselves child brides.
Usha Yadav was married five years ago through a tradition known as Gauna, in which she was ceremonially married to her husband without even meeting him. She is now 18, but has not yet moved into her husband's home.
"I came here to play because I think that married girls are also entitled to receive these opportunities," she said.   
"A dream come true"
Around 1,500 people gathered to watch the tournament, which lasted from October 24-26.
Messages about child marriage were delivered over the loudspeaker by Mr. Shrivastav, alongside his gripping commentary about the game.
"Dear audience," he said, "the theme of this match is bowling out child marriage and violence against women and girls."
In the finals, Fewa Girls' Group emerged as winners, and the Tilaurakot team was first runner-up. These teams received medals and cash prizes.
The other two teams were Buddha and Laliguras.
"I hit eight 4s during the entire tournament. Sadly, I couldn't hit a 6," said 14-year-old Khatri, who was awarded the title of player of the series. "Every boundary I scored is against child marriage," she added.
"Becoming the bowler of the series of this cricket tournament was a dream come true for me," said Prem Sheela Pasi, 18.
A run towards new ideas
The tournament was also supported by the District Coordination Committee, and the Family Planning Association of Nepal.
It was the first event of its kind, said Cricket Association of Kapilvastu Chairperson Prakash Gaire, who noted that the effort to end child marriage must use every means available – "including cricket."
Fans like Irfan were quick to get behind the concept. "It's new to me, but I like this idea," he said.
In the end, it was an impressive run towards the goals of ending child marriage and achieving gender equality.
"Next time," Prem said, "I want to play against a boys' team."
– Santosh Chhetri