UNITED NATIONS, New York – The United Nations honoured Thoraya Ahmed Obaid and the African Population and Health Research Centre (APHRC), recipients of the 2015 United Nations Population Award, at a ceremony held today at UN Headquarters.
The winners were recognized for their outstanding contributions to human rights, reproductive health, gender equality and population research.
"Our two laureates have blazed the trail in improving lives and achieving sustainable development," said UN Deputy Secretary-General Jan Eliasson at the awards ceremony. "[They] deserve this recognition and our gratitude for their contributions," he added.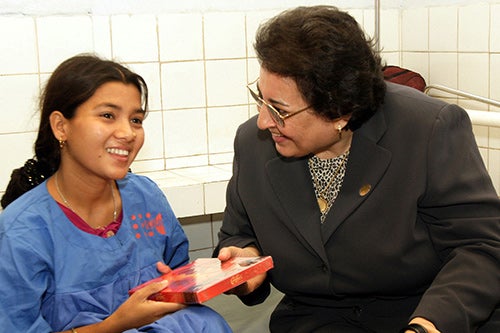 Dr. Obaid visits a woman at a UNFPA-supported health clinic in Southeast Asia.  © UNFPA
Empowering communities to advance human rights
Dr. Obaid is a lifelong champion of women's and young people's heath and empowerment. She joined the UN Economic and Social Commission for Western Asia (ESCWA) in 1975, focusing on the link between women's empowerment and population dynamics. In 1998, she joined UNFPA, and eventually rose to the rank of Executive Director.
Dr. Obaid has been widely recognized for highlighting the importance of culture in advancing human rights. "I believe firmly that no change can come from the outside. It has to be owned by the community," she told UNFPA in an interview.
"Yes, there can be universal ideals such as universal human rights, but making them a reality has to be the work of the people themselves in their own communities. And they have to feel proud that they have values in their culture and belief systems that resonate with universal human rights."
Dr. Obaid recalled a moment that illustrated these ideas. During her tenure with ESCWA, she was visiting a women's literacy class in rural Oman. "An old blind woman had brought her daughter-in-law to the class… She said, 'I want my daughter-in-law to learn to read and write, not to remain like my generation – illiterate.' She was there to support her daughter-in-law…and to protect her from any criticism from the society that could possibly take place."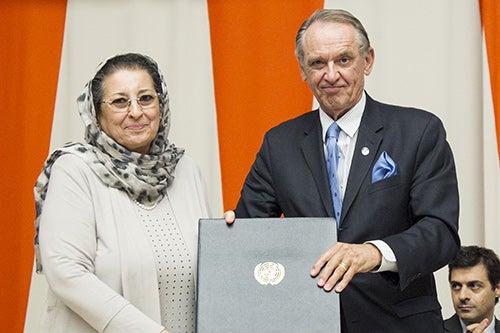 Dr. Obaid receives the UN Population Award, presented by Deputy Secretary-General Jan Eliasson. © UN Photo/Rick Bajornas|
It was inspiring, Dr. Obaid noted. "The old woman herself might have been physically blind, but certainly she had full vision of where she wants her family and her country to be."
Breaking barriers
Dr. Obaid was also a trailblazer. She was the first woman to receive a scholarship from the Government of Saudi Arabia to study in the United States and the first woman to be nominated by Saudi Arabia to head a UN agency. She was also the first Muslim woman to receive a medal from Union Theological Seminary and the first woman named Person of the Year by the Custodian of the Two Holy Mosques.
Yet Dr. Obaid insists on sharing credit for these accomplishments with the people who supported her, like her father. "Being a middle class person, he could not afford to send me to the United States for my university education," she said, explaining that he helped her secure the scholarship to study abroad. "It was my father – a man – who saw the opportunity for women to break the glass ceiling, and he pushed with me."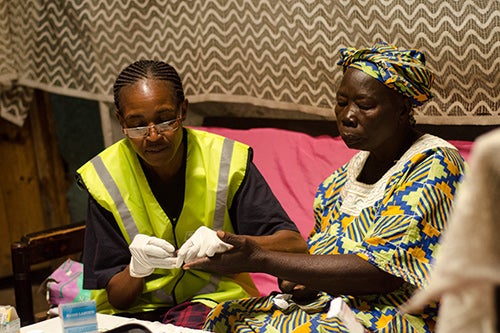 A woman receives a blood test in a Nairobi slum, part of APHRC's research on diabetes and hypertension. © African Population and Health Research Centre
The experience has resonated with her throughout her career, demonstrating, she said, "the role of men in supporting the empowerment of women."
"African voices must be heard"
The UN also recognized the achievements of APHRC, which was founded in 1995 to develop scientific evidence to inform policymaking across the continent. The Centre brings together African scholars to analyse and develop data on urbanization, population dynamics, reproductive health, ageing, public health, education and other critical issues.
The Centre also trains researchers, with a view towards empowering African academics to produce locally relevant work.
"At APHRC, we believe that African voices must be heard in matters that concern the continent's development," Catherine Kyobutungi, the Centre's research director, told UNFPA. "Those voices must be well informed, and we are working to make sure that more and more Africans generate good research evidence, and communicate this evidence at the right time and in a way understood by everybody."
APHRC's work has grown rapidly. It now has a portfolio of nearly 40 projects, and it has supported the PhD training of hundreds of Africans. Research by the Centre has influenced policies on education, sexual and reproductive health, disease management, and social protections for the elderly, among others.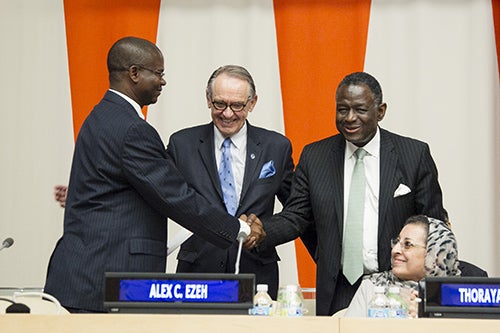 APHRC Executive Director Alex Ezeh shakes hands with UNFPA Executive Director Dr. Babatunde Osotimehin upon receiving the UN Population Award. Between them is Mr. Eliasson. © UN Photo/Rick Bajornas
The Centre's staff is committed to advancing development and health throughout Africa, said APHRC's Executive Director Alex Ezeh. "Our work ends when the people of Africa enjoy the highest possible quality of life," he said.
"More and more leaders and people in the world understand human rights are the basis not only for peace and security but also for sustainable human development," Mr. Eliasson said, after presenting the awards to Dr. Obaid and Dr. Ezeh. "Today's laureates are part of and linked to that success, and they are continuing to address the inequalities that persist."