NAMPULA CITY, Mozambique – "Some adolescent girls will leave school to marry for money," 21-year-old Edma told UNFPA. "Some are engaging in unsafe sexual behaviours, unaware of the risks and their rights."
Edma sees these realities every day.
And she has made it her mission to change things: She has become a mentor.
Every week, Edma meets with about 30 girls between 10 and 15 years old in the Namutequeliua neighbourhood of Nampula City, in northern Mozambique.
There, in a space the girls have identified as safe to discuss sensitive topics, they cover a range of issues, including sexual and reproductive health, the consequences of early pregnancy, how to prevent pregnancy and sexually transmitted infections, and the importance of human rights – including the right to live free of violence and child marriage.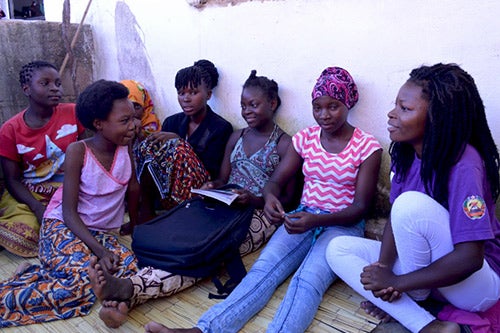 Edma talks about preventing unintended pregnancies with girls in a "safe space," a space they have designated as safe to discuss sensitive topics. © UNFPA/Helene Christensen
"Many girls are vulnerable to violence, early pregnancy and marriage when still children, which compromises their education and future," Edma explained.
She is one of nearly 800 mentors with Rapariga Biz, a programme that translates to "busy girl." Launched in May of last year, Raparinga Biz aims to empower 1 million girls and young women with life skills and health and human rights information by 2020.
Girls face a minefield of hazards
In a 2015 survey by the health ministry, 46 per cent of Mozambican girls, 15 to 19 years old, were either pregnant or already mothers. And among young women aged 20-24, some 48 per were married before reaching age 18, according to a 2011 survey.
Child marriage and early pregnancy often force girls to drop out of school, and put them at risk of pregnancy-related complications such as obstetric fistula, or even death. (Globally, pregnancy-related causes are the leading killer of adolescent girls.)
Raparinga Biz is working to keep girls safe from these hazards.
Led by the government – with technical assistance from UNFPA, UNESCO, the UN Children's Fund and UN WOMEN, and funding from the Swedish International Development Cooperation Agency – Raparinga Biz has so far reached over 23,000 girls and young women in the provinces of Nampula and Zambezia.
Mentors are a core part Rapariga Biz's approach, which gives girls crucial information about their bodies and rights. It also teaches girls key skills, such as literacy and financial skills, and helps them participate in advocacy efforts such as mass media campaigns.
Mentors also encourage out-of-school girls to return to the classroom, and they refer survivors of violence or child marriage to health, social and justice services.
Creating a sisterhood
"Mentor Edma came to my home after a session to ensure I understood the risks and consequences from falling pregnant," said Mamo Daudo, 15. "It made me change my risky sexual behaviours."
She says she thinks of Edma as her sister, advisor, friend and role model.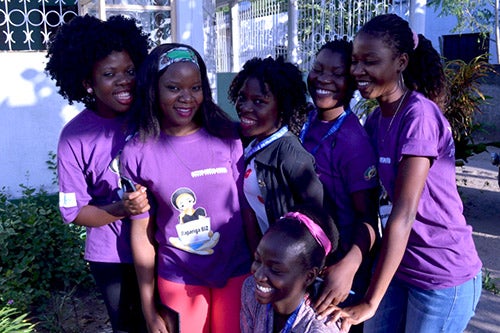 Rapariga Biz mentors gather for one of their monthly sessions. © UNFPA/Helene Christensen
Mentors say they have also benefitted from the programme.
"I have learned and grown lots from being a mentor. It prepares me well for realizing my dream of becoming a professor," Edma explained.
Many mentors have themselves overcome major challenges.
"I once engaged in transactional sex without using contraceptives to be able to afford attending school," said Amelia*, 22, from Quelimane, Zambezia. "Now I use my own story to demonstrate that a change is possible. I hope to make the girls see that they can start making different choices in their lives just like I did."
Amelia is now using the monthly subsidy she gets as a mentor to cover her school fees.
The efforts of Edma, Amelia and others have yielded significant progress.
In the programme's first year, only five early pregnancies were reported among over 9,294 participants between 15 and 19 years old. One hundred and fifty early marriages were reported among almost 22,000 girls between ages 10 and 19, a rate of 0.7 per cent, which is far below the national average.
UNFPA and partners will train an additional 2,000 mentors in 2017.
– Helene Christensen
* Name changed to protect privacy