TBILISI, Georgia — Dr. George Gabunia is a man with a mission. As director of the Tbilisi Cancer Centre, he is fighting an epidemic of breast and reproductive tract cancers in the country. Georgia, hobbled by 15 years of economic chaos, has seen its health budget contract year after year. Currently, cancers are the second cause of death in Georgia, while breast cancer is the fourth most common cause of death among women.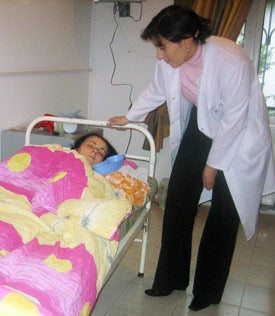 Until the Cancer Centre was established in 2004, there was no medical facility in the entire country with the capacity to screen, detect and treat the early stages of cancer. As a result, by the time most cancers were referred to the National Cancer Centre in Tbilisi, 70-80 per cent of them were already terminal. "We simply had no system for the early detection and treatment of cancer, and no cancer registry," says Dr. Gabunia in his deep baritone voice. "For women in the 40-60 age group in Tbilisi, breast cancer was the number one killer, while cervical cancer was a close second."
The cancer epidemic was made worse by the poor state of the country's public health system, which emphasized curative services rather than prevention. "We had to convince the government that when dealing with cancers, prevention and early detection are the keys to reducing the death toll," points out Dr. Gabunia. "The breakthrough came a few years ago, when the municipal authorities of Tbilisi gave us this building. In 2006, the Tbilisi Municipality and UNFPA, the United Nations Population Fund, started this co-funded project in which UNFPA resources are targeted at prevention and early detection of reproductive health cancers through training of doctors, population Information, Education and Communication (IEC), network building and data analysis."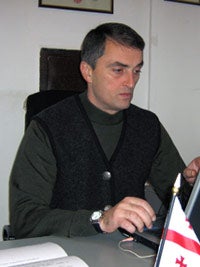 The Cancer Centre is situated in a wooded compound in the heart of Georgia's hilly capital. After a public information campaign was launched, particularly in radio and television, and an education programme was started for primary health care doctors, the Cancer Centre registered a marked increase in the number of women coming in for screening and treatment. Prior to the public information campaign, the Centre was accommodating 30 patients per day. Afterwards, nearly double that number was visiting the Centre every day.
Over the past two years, more than 20,000 women have passed through the Centre's cancer screening programme. Over 600 cases of cancer were diagnosed, with eight out of ten patients requiring pre-cancer treatment. "With early detection, we can cure 90 per cent of cervical and breast cancers," says Dr. Gabunia.
The Centre is effectively a one stop shop for screening, detection and treatment of cancers. It has a complete laboratory where blood and tissue samples are analyzed, including Pap smears. It also has an ongoing outreach campaign, implemented by a full-time information officer.
The ongoing support provided by UNFPA also enabled the Centre to set up a cancer registry for Tbilisi, which is now being expanded to the entire country. In addition, UNFPA and the World Health Organization (WHO) assisted the Government in developing 18 medical protocols for detecting and treating cancers. Another important achievement in 2006 was the completion of guidelines and training for Pap tests (which were available at only two facilities in the entire country). In 2007, UNFPA will continue to provide equipment and training sessions for Pap tests to another 12 medical centres throughout Georgia.
The Cancer Centre in Tbilisi includes several operating theatres, counselling rooms, laboratories, and doctors' offices. It has a staff consisting of 25 doctors, specialists, nurses, technicians and support personnel. According to Dr. Gabunia, the Centre performs three to five cancer-related operations every day. On the spacious second floor, not far from the operating theatres, several rooms house post-operative patients.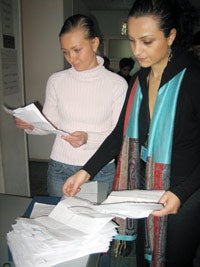 Guguma, a middle-aged woman, is recovering from the removal of one breast, after a lump that she had for 25 years suddenly began to grow larger. By the time she got to the Centre, the entire breast had to be removed. "I was very frightened at first," says Guguma. "We think cancer is an automatic death sentence. But the care and treatment I received here were marvelous. The doctors saved my life."
Another patient, Tamar Talakvadze, has returned to the Centre for a routine follow-up examination, two months after an operation removed both a pre-cancerous cyst in one breast and a pre-cancerous condition in her uterus. Her gynecologist, Dr. Dina Kurdiani, is pleased with the outcome. "She is recovering completely," says the doctor. "There are no complications."
Tamar, 25, is visibly relieved at the news. "I found out about the Centre through friends and I came in immediately for an examination," she says. "I really appreciate the services here because they caught the cancer before it developed. And the services are free."
In a country where the average monthly income is around $70, the costs of medical care are often beyond the reach of many families. Offering the complete array of services free of charge has not only made the Centre popular in Tbilisi, but is also attracting women from other regions of Georgia.
The Centre has become a model for the rest of the country. "The Tbilisi Cancer Centre is recognized as the best health care programme in the capital," says Dr. Gabunia. "Moreover, the Ministry of Health regards this Centre as one of its best programmes and also as an excellent example of cooperation between the Government and the United Nations. I'm sure that with continued assistance from UNFPA and WHO, we will be able to expand our services to reach more people." 
— Don Hinrichsen