TARIME, United Republic of Tanzania – Female genital mutilation (FGM) is a human rights violation – one that can lead to haemorrhage, infection, complications during childbirth, infertility, and, in some cases, even death. Yet it remains common in Tanzania and many other parts of the world. "When I was in boarding school, I heard that my uncles came to my aunt and [said they] wanted to take my 14-year-old sister for cutting," said Diana,* 16, from Tanzania's Sirari District.
An estimated 15 per cent of Tanzanian women have been subjected to FGM, according to the country's 2010 demographic survey. Globally, an estimated 100 to 140 million women and girls alive today have been subjected to the practice. If nothing is done, some 15 million more girls, aged 15 to 19, will be cut by 2020.
Today is the International Day of Zero Tolerance for FGM, a day to intensify efforts to end this practice. And, slowly, these efforts are working. In northern Tanzania, a groundswell of support helped more than 600 girls escape FGM in 2014 alone.
A harrowing escape
Diana was determined to protect her sister, and herself, from FGM. "During school holidays, my main mission was to run away with my sister to a safe place, far away from the 'ngaribas' [traditional FGM practitioner] and family members who wanted to mutilate us," she said. 
A girl smiles at the graduation ceremony for her alternative rite of passage in Tarime, Tanzania. She and the other graduates are expected to become agents of change for their community. © UNFPA/Sawiche Wamunz
"It was around 8:30pm when my sister and I managed to escape. We went straight to the pastor's house, where we knew we will be safe. The following day, when the family members found out about our escape, they followed us to the pastor's house and threatened us, saying once we returned home, they would mutilate us."
Fortunately, the pastor brought the girls to the Masanga Centre in Tarime District, part of the UNFPA-supported Terminate Female Genital Mutilation (TFGM) programme. There, they took part in a month-long training on human rights, reproductive health and the culture of their Kurya community, and they also received extra tutoring in school subjects. The training was followed by a graduation ceremony.
Together, the whole process is a rite of passage that serves as an alternative to FGM for girls in the community.
Diana and her sister were among 634 in girls to escape FGM last year through this alternative rite of passage.
The TFGM programme has organized alternative rites of passage in Tanzania's Tarime District for seven years. The trainings aim to protect girls not only from FGM but also from child marriage and adolescent pregnancy, and to keep them in school.
Graduates of an alternative rite of passage march with their supporters in Tarime, Tanzania. © UNFPA/Mandela Gregoire
Some 2,001 girls have passed through the alternative rites of passage in Masanga.
Former practitioners as agents of change
FGM is illegal in Tanzania, but it is often difficult to persuade community members to let go of the practice. "FGM is deeply entrenched in the traditional practices of the community and is often protected by local leaders," said Natalia Kanem, UNFPA's representative in Tanzania.
It requires no small measure of bravery for women and girls to stand up against it. Still, these acts of courage are taking place – not only among the girls threatened by FGM, but also among the women tasked with perpetuating it.
Eleven traditional practitioners of FGM , known as ngaribas, voluntarily put down their tools in 2014, following years of awareness-raising and negotiations with the Masanga Centre and district government.
They received training on human rights and the harmful effects of FGM. To help them earn an income after abandoning their trade, they were also taught batik-making and other entrepreneurial skills.
Nyanjiga,* 37, was one of these women. She began working as a ngariba when she was 28 years old. "My grandmother was a famous and respected ngariba in our community. When she died, I was chosen to take over her job. There was no way I could refuse because that was my fate as an elder grandchild," she said.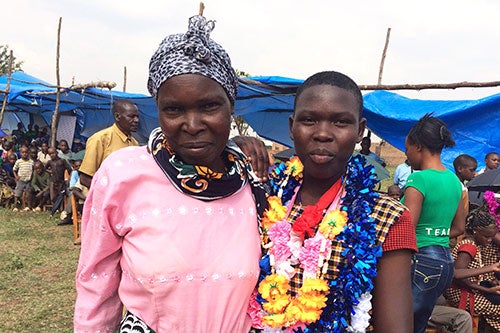 A mother celebrates her daughter's graduation from TFGM's alternative rite of passage ceremony. © UNFPA/Sawiche Wamunza
"I decided to stop because I learned of the effects of FGM, and I did not want to be in trouble with the Government, since they have told us to stop. I wish I could take back all that I have done to these girls but I can't."
Last year, she publicly declared her commitment to abandoning FGM. "The only way to heal my heartache is to teach other ngaribas who are still doing it to stop, and to also make sure that the young girls understand the effects of FGM," she said.
Community-led
UNFPA works with partners to help former practitioners, traditional and religious leaders, journalists, teachers, police and the judiciary eliminate FGM.
But as is always the case, change is most effective when it come from within communities – and from empowered women and girls.
"It is good that here in Mara region, the efforts for its eradication have been directed and led by the communities," said Dr. Kanem.
–Sawiche Wamunza
*Names changed