COLOMBO—In a quiet, leafy enclave in Sri Lanka's capital, 35 young volunteers work in assembly line fashion putting together emergency hygienic supplies. These supplies are badly needed by women and girls affected by the devastating tsunami that claimed 30,000 lives in this island country and left over 800,000 homeless.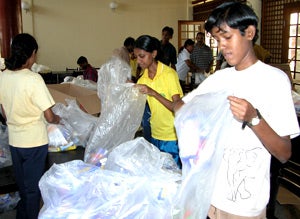 The workers, mostly between 15 and 25, are members of the National Youth Services Council, a UNFPA (United Nations Population Fund) partner organization, with representatives in virtually every community in the country. Some have been working tirelessly since the 29th of December, when the initiative was launched with funding provided by UNFPA.
In a breezy room filled with boxes, the young people work fast and efficiently to assemble the supplies into individual packages. Each contains soap, disinfectant, washing powder, sanitary napkins, ladies panties, a toothbrush and toothpaste, and towels.
In the first mass shipment, 25,000 packages are being trucked to three of the hardest hit districts – Trincomalee, Galle and Hambantota – and one township, Moratuwa. Some 300,000 of these hygienic kits will be sent to survivors in the coming weeks.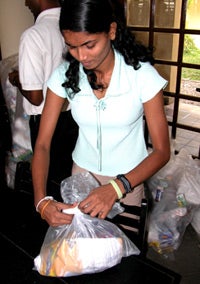 Amali Boteju, 17, has been working long hours over the past two weeks to help assemble these emergency supplies. A lively girl with piercing eyes, she feels it is her duty to help out. "Even though my family is safe, my sister lost her home in Moratuwa when the waves came. This tragedy happened to all of us, it happened to the country. Nearly everyone I know has a family member or relative affected by the tsunami. By working together we can make a difference in the lives of those who have lost so much."
Amali hasn't been back to her secondary school since the tsunami struck on 26 December. Many schools that escaped damage have been converted into shelters for the displaced.
"I intend to work here as long as I can," Amali insists. "These packages may not look like much, but believe me they mean a great deal to the women who get them."
On the next table, Sampath Kusumsiri, an athletic coach at the National Youth Centre, is busy stuffing towels and disinfectants into bags, the last items to go in. He too has been working feverishly for two weeks. "I think this effort makes a real difference in the lives of those women affected by the disaster," he explains in clear English. "We need to show solidarity with the victims. It's important that women get these packages."
The kits are being distributed by the Ministry of Health's Family Health Bureau and Sarvodaya, a national NGO with 10,000 local branches throughout the country.
"In emergencies like this one, the health needs of women and adolescent girls in particular are often overlooked or ignored," points out Lubna Baqi, UNFPA Representative in Sri Lanka. In the face of such tragedy, women need very basic supplies, as well as medicines and food. These supplies will safeguard their dignity and allow for mobility, while they try to rebuild."
At the assembly centre in Colombo, Amali is tired but exuberant. "I will be back tomorrow and as often as necessary to complete this work."