BAGHDAD, Iraq – "Sport promotes cooperation and creativity, attracts positive energy, breaks deadlocks and develops innate talents and skills," said Fatima, a 27-year-old youth leader, from Dhi Qar Governorate in southern Iraq.
Sport also does something else – it helps draw vulnerable young people to programmes where they can receive critical information and services.
This is particularly important in the Syrian refugee communities of Iraq, where many people lack access to health services and information.
The main issue, many refugees say, is difficulty navigating the Iraqi health system. Some women even resort to giving birth at home rather than go to health facilities, for example.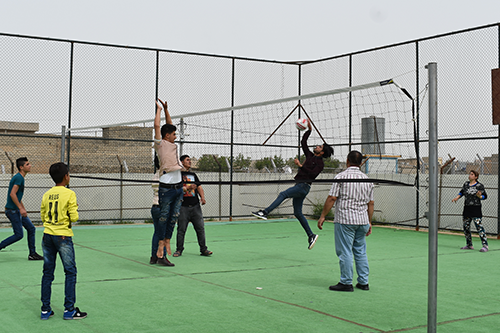 The UNFPA-supported youth centres use activities like volleyball to spread messages about health, human rights and peace. © UNFPA Iraq
UNFPA supports five youth centres in Iraq's refugee camps. These centres offer information sessions and workshops on a variety of topics, including how to access health services.
A door to engagement
Sports like football attract refugees to the youth centres. And these activities offer their own benefits, such as promoting health and social unity.
The right to play is even recognized in the Convention on the Rights of the Child, the most widely ratified human rights treaty in the world.
"The activities that I participate in at the youth centre boost my self-confidence and perseverance and introduce me to new friends," Fatima told UNFPA.
She was attending a UNFPA-supported youth leadership workshop in Baghdad, where several participants highlighted the value of sport in increasing youth engagement.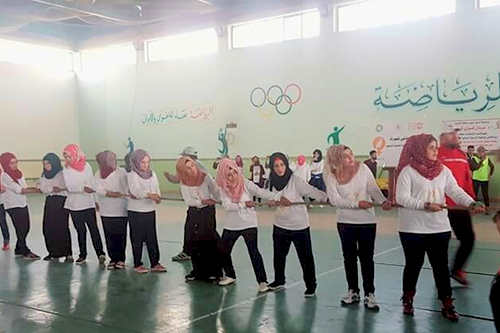 Sport can be used to teach conflict resolution. © UNFPA Iraq/Salwa Moussa
UNFPA's youth centres use football, volleyball, basketball, table tennis and chess tournaments as an entry point for spreading critical messages. The Y-Peer youth network, for instance, conducts information sessions that offer accurate, non-judgmental information on sexual and reproductive health.
Human rights and peace
Sport can also teach mutual respect, collaboration and conflict resolution – lessons that segue neatly into messages about human rights and peacebuilding.
"It teaches the values of teamwork, fairness, discipline, respect for the opponent and the rules of the game, which can be translated into our everyday lives," said 28-year-old Hussam Mohammad, from Ninewa Govenorate in northern Iraq.
Every month, the five UNFPA-supported youth centres reach an average of about 3,600 young men and women, and the UNFPA-supported Y-Peer network reaches an estimated 1,500 youth.