JUBA, Republic of South Sudan -- One year ago, the streets of this dusty town erupted in jubilation as South Sudan gained its independence. Despite of the exuberance that accompanied the birth of the world's newest nation, few thought that the war-torn country, one of the least developed in the world, would have an easy time of it. And indeed, South Sudan's many achievements have been mixed with significant challenges and setbacks.
"We join the joy, hope and enthusiasm around the anniversary and celebrate the many achievements and successes of the newly born nation," said Mr. Barnabas Yisa, the UNFPA Representative in South Sudan. He noted that UNFPA and partners have accelerated efforts to fight maternal mortality and morbidity in South Sudan, a country with some of the worst health indicators for mothers and children.
Delivering midwives for a new nation
One key achievement in this area is training for midwives and nurses at the Juba College of Nursing and Midwifery and similar education programmes started in Maridi and Wau. As a result, the first group of 17 students will graduate with diplomas in midwifery next May and will be ready for positions throughout the ten states of South Sudan. In the interim, 16 experienced international midwives have been deployed through the United Nations Volunteer midwives. These midwives are based at public hospitals and function as clinical tutors and mentors for midwifery staff and students.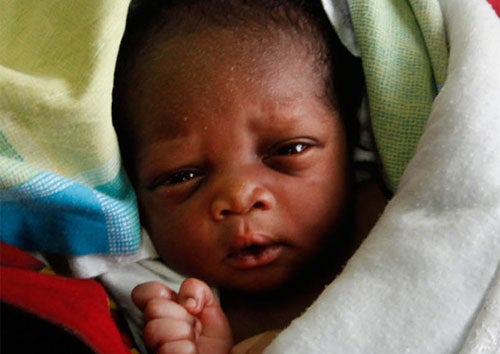 Sadly, Baby Independence did not survive. Photo: Barbabra Davidson/LA Times
But the new country also faced many challenges since independence. "South Sudan has still some of the worst social indicators in the world and the country has to deal with different humanitarian crisis in the same time," says Mr. Yisa. Sadly, the baby named Independence, the first child delivered in a hospital in the new nation, did not make it to his first birthday, but died from complications related to diarrhea, which kills more children than AIDS, malaria and measles combined, especially in undeveloped countries.
Meeting the needs returnees and refugees
One year after independence the humanitarian situation is severe. Close to 406,000 returnees have arrived in South Sudan since the beginning of the organized returns programme in October 2010 with Juba and Renk in Upper Nile State remaining the main centres for movements by South Sudanese returnees. An additional 170,000 Sudanese refugees who have fled ongoing violence are being provided with humanitarian assistance in South Sudan. The continued influx of Sudanese refugees arriving in Unity and Upper Nile states presents a tremendous pressure on service delivery. While reliable data is not yet available, ongoing surveys indicate a majority of refugees to be women and young people.
To save lives and meet the protection and reproductive health needs of the affected population, UNFPA together with partners assessed the affected areas and scaled up its emergency response by providing reproductive health kits and supporting safe spaces for women, girls and young people.
"There is still a long way to go so that each woman, girl, man and boy can fully celebrate independence in my country," says Mary Lokoyome, South Sudanese and Gender Officer at UNFPA in South Sudan. "I am talking about better access to reproductive health services, gender equality and also focusing on the needs of young people, who are the future of our country," Ms. Lokoyome says. "But if we all join forces, I believe we can make the change and move towards a prosperous South Sudan."
Update: Additional funds allocated for new refugees
On July 27th, the UN's Central Emergency Response Fund allocated more than $20 million to help alleviate the suffering of the recent wave of Sudanese refugees fleeing into South Sudan from the conflict in South Kordofan and Blue Nile States. UNFPA will use $227,927 to help scale up and extend access to vital maternal and reproductive health services in that region.