BISHKEK, Kyrgyzstan – Twelve-year old Aigul,* in eastern Kyrgyzstan, locked herself in a school bathroom and contemplated suicide. When her teacher came to investigate, Aigul confessed that she had ignored her mother's warning not to play with boys. Now, she was pregnant, she said, and would rather die than bring shame to her family.
In fact, Aigul was not pregnant at all. She had actually gotten her first period, but did not understand what was happening to her body.
Sadly, Aigul is not alone. Without sexuality education in Kyrgyzstan's schools, most adolescents are left to figure out reproductive health issues on their own. A monitoring exercise conducted with UNFPA support showed that only 21 per cent of schoolchildren receive sexual and reproductive health information from teachers, and only 15 per cent receive such information from their parents.
Yet 80 per cent of parents said they wanted their children to receive sexuality education in schools. Many said they did not know how to talk to their children about these sensitive issues.
Sweeping approval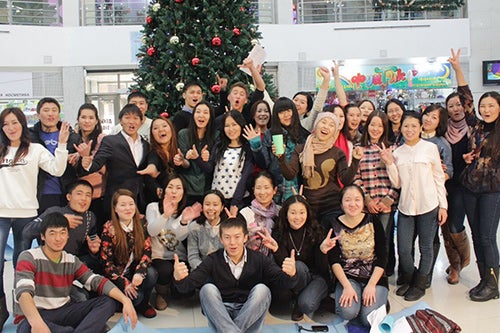 Y-Peer youth advocates held a flashmob in this shopping centre to show their support for the reproductive health law. © Y-Peer 
Aigul's story was brought to the attention of lawmakers, who argued that sexuality education should take place in schools. Sexuality education addresses not only biology but also life skills and responsible behaviours, introducing age-appropriate information over time throughout a young person's education.
Still, the issue has been the subject of much debate. Health experts and youth leaders – including members of the organization Y-Peer – advocated for these issues to be included in school curricula, but some lawmakers were apprehensive.
Finally, on 21 May, Parliament passed a reproductive health law establishing a legal basis for introducing sexuality education classes in all schools. It was approved by a sweeping majority – 96 votes in favour, with just nine opposed.
"Despite much opposition, we were able to convince our parliamentarians," said Nadira Narmatova, a Member of Parliament who played a key role in initiating the law. "I believe that sexuality education will help to reduce the number of pregnancies, abortions, HIV and sexually transmitted diseases among teenagers, and have an overall positive effect on the health and future prospects of our young people."
The law was signed by Kyrgyzstan's president, Almazbek Atambaev, on 4 July.
"Long overdue"
The development was praised by health professionals, educators, youth leaders and parents.
"It is a long overdue initiative," said Gulzina Madraimova, a doctor at the Bishkek Student Polyclinic who has practiced medicine for 27 years. "We should respect traditions, but they should not deter us from giving proper and timely information about sexual and reproductive health to our children. If girls and boys know their bodies, are informed about changes that will occur in adolescence, and know how to take care of their bodies, they could avoid many different diseases in later years."
Single mother Olga Nikitina is also happy about the law. "I am glad that our children will have access to sexuality education classes in schools. Although I have a medical background and would like to talk to my 15-year-old son about sexual and reproductive health, he refuses to talk to me about this topic."
Dastan Akunjanov, 15, says the quality of the education matters a lot. "In biology class last year, we had anatomy lessons where we studied male and female reproductive systems. A lot of my classmates giggled and laughed during class. When sexuality education is introduced in schools, it is important for teachers to have an interesting and well-prepared programme."
Biology teacher Saadat Jeenbekova agreed. "It is important that information will be taught in a way that will not bring embarrassment either to the teacher or to the children. It would be easier to start talking to children about their sexual and reproductive health early on, because when they are older, children are embarrassed to talk about the reproductive system."
UNFPA provided technical support through the development of the law. Now that it has passed, UNFPA will support the government in its implementation, including in the development of a sensitive and age-appropriate curriculum.
–Tolgonai Berdikeyeva
*Name changed for privacy reasons