PLOP-STIUBEI VILLAGE, the Republic of Moldova — A cold, autumnal drizzle fell outside as 15 women huddled around an improvised electric plate in a small room in the Healthcare Centre in this small village in the Causeni rayon (or district). The cold rain has been grating on their nerves for the past three days, the rain that they had waited for so desperately during the hot summer months, when it might have saved their crops.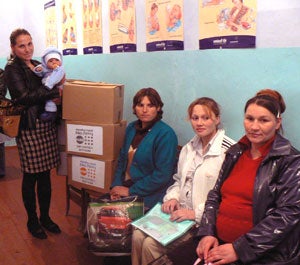 The women are bundled up in warm clothes. Many holding their babies in their arms; others are in their third trimester of pregnancy. Most of the women would rather spend most of the day here, because it is warmer than at home. Even with young children, they heat their homes only in the evenings for just a couple of hours, so as to conserve firewood during the frosty winter months. As they try to stay warm, they share stories highlighting the ways in which poverty, exacerbated by the recent drought, have altered their lives.
With twins on the way, Lilia is scared
Lilia Acatrinei is the oldest among them. She has turned 36 and in two months she will become mother for the fourth time. This time she is expecting twins and is terrified when she considers how her six children and she will make it through the winter following the severe drought that hit the country earlier this year. Like the rest of the women gathered at the Healthcare Centre, she is expecting to receive a food package from UNFPA, the United Nations Population Fund.
She heard on the radio that this international organization will distribute food packages with sugar, rice, oil, flour and beans in drought-affected regions to pregnant and nursing women. Although she has been hoping to receive such help, she was still surprised, since, up until now, little help has been forthcoming.
Dealing with the loss of livestock as well as crops
"I'm working two hectares of land together with my in-laws, and in the past years we used to gather in enough cereals and fodder to breed animals and feed our families," says Lilia. This year the drought stole their only hope of winning the uphill battle against poverty. The crops were ruined, and they had to sell or sacrifice most of their animals, which would have otherwise died of hunger. "We sold two big bulls, a dairy cow and two pigs, and raised some money so that my husband could leave in search of a job abroad. Unfortunately, we do not have another solution," she adds.
"We used to gather in enough cereals and fodder to breed animals and feed our families. This year we sold two big bulls, a dairy cow and two pigs, and raised some money so that my husband could leave in search of a job abroad. "

--Lilia
Her 38-year-old husband was a tractor driver in their village, but he had little work, and the money he earned was not enough to cover the expenses for utilities, food, clothes, taxes and other necessities. "Before taking the maternity leave, I worked as a dressmaker at a factory in Causeni and earned money for my family to live on. Now, when I'll have to take care of the little ones, we will have greater expenses and less income," says Lilia with a sigh. Their only income is the 150 lei ($13) child allowance, which the government is paying monthly for the care of her three children.
"I'm extremely pleased with the help offered by this international organization, because otherwise I would have to spend the entire one- or two-month family income on staple food. On the brink of winter, when we also need firewood, any sum of money is of great worth," she adds.
Awaiting their sixth child, the Stacis face a tough winter
For the past eight years, since their children were born, life has been a continuous fight for survival for the Staci family from Causeni, Ana, the homemaker, says that she managed to work only short periods of time between births. Working as a scrubwoman in the school, she earned too little to feed her five children. In two months, her sixth child will be born. They will still be living in the same old house made of clay brick, with two small dank rooms.
Because of the shortage of firewood and coal, the small stove is cold. She says that her husband, Vasile, and she always wanted many children, but they have never thought that it would be so difficult to raise them. Vasile, age 37, is constantly in search for a job. Last year he worked for a short period of time in the building and construction sector in Russia, but he was expelled from the country because of a problem that arose with his documentation.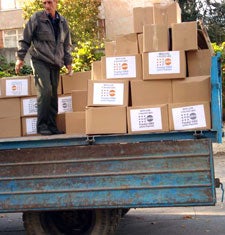 He got a job at the mill in his village, but because of the drought he had no work. The drought that hit the country this year not only left his pockets empty, but also his barns. And as if that weren't enough, one of his children begun suffering from chronic bronchitis, probably, due to the humidity in the house. "We barely returned home from the hospital, when Victor began coughing again. I don't know what to do to him any more …," says the woman sorrowfully.
Food packages give some relief
This autumn their oldest two children went to school, and the parents spent almost all their savings on school requisites, shoes and clothes. The house of the Staci family is situated on the top of a hill and on rainy days, the children have to slog through two kilometres of mud on their way to school and then back home. Under such conditions, their footwear cannot last for a long time.
The Staci family received the UNFPA package with great pleasure. The different products were immediately opened by the three children who were home at the time. Ana says that it is a real fortune for their family, especially that most of the food products have grown more expensive, and a new wave of price increases is expected in winter. "Although these products will be enough for only a couple of weeks, it is still a great relief for us," adds Ana.
Hoping for the best, with a second child on the way
"The drought that hit our country this year was the reason for our separation from my husband's parents," Natialia Sarbu, 24, tells us with a voice both cheerful and sad. "My in-laws have approximately one hectare of arable land and this year, due to drought, it hasn't yielded any crop. When they realized that the harvest would not be enough even for the two of them, they told us to fend for ourselves and implied that we should leave the house," says Natalia.
The couple was lucky to have a relative who could loan them a house for a period of time. But now they are short of firewood and have practically no source of income. Natalia is taking care of their toddler, Mihai, and is not working, while her husband, Ion, searches for a job. "He worked for some time in the construction sector, but the building was put into operation and now he has no job," she explains. In two weeks the couple will become parents for the second time, and then the situation will probably be more difficult. The woman is praying that her husband raises enough money to take her to the maternity hospital. In such a situation, Natalia says that any help is welcome. "I think that the 100 lei allowance, which I receive for nursing the child, wouldn't be enough to buy these food products."
According to Eugen Palli, chief specialist of the woman and child assistance ward within the district hospital in Causeni, the packages with food products offered by the UNFPA were distributed to 220 pregnant women and nursing mothers, who are in difficult situations. He told us that this aid was an extremely welcome one, considering the fact that these pregnant and lactating women have special nutritional needs and have been greatly affected by the severe drought that hit the country last summer.  
— Natalia Costas