UNITED NATIONS, New York — United Nations Secretary-General Kofi Annan accepted the first Seville Node Between Cultures Award in Spain on Monday and immediately pledged its monetary prize to a UNFPA-led joint initiative helping Congolese women traumatized by sexual violence.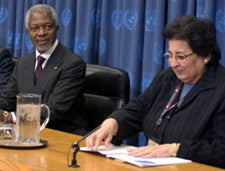 "There is a need to unlearn our collective prejudices," said Mr. Annan as he received the Seville Nodo Foundation's award, which recognizes an individual's contribution to cross-cultural understanding among Christians, Jews and Muslims. "Instead, we must all promote a continuing dialogue, based on the premise that diversity – in thought, in belief, and in action – is a precious gift, not a threat."
Mr. Annan also called for education "to go beyond stereotypes of the other, and to avoid simplistic categorizations that exacerbate misunderstandings and prevent real problems being tackled."
Towards that end, he praised the initiative of Spain, which, together with Turkey, launched an Alliance of Civilizations at the United Nations to overcome prejudices, misconceptions and polarizations, which might threaten world peace.
At the Secretary-General's request, the 30,000-euro monetary part of the award will be directed to a UNFPA-led project combating sexual violence against women and children in the Democratic Republic of the Congo (DRC).
"My wife, Nane, recently visited this project, and met with survivors," said Mr. Annan. "Her experience is difficult to convey, but both Nane and I strongly believe that such projects bring to life, at the local level, our broader efforts to promote equality and human dignity worldwide."
"I am touched by this contribution by the Secretary-General to this valuable project. It further shows his belief in the value of protecting the health and basic human rights of women and girls," said Thoraya Ahmed Obaid, UNFPA's Executive Director. "This Award underscores the need for understanding and mutual respect among cultures. And for me, every culture has values that allow it to help promote the human rights and health of women, especially in poor or remote areas of the world."
The UNFPA-supported joint project aims to prevent and treat sexual violence against women, adolescents and children in three provinces of the DRC: Orientale, Maniema and Equateur. A crucial element of the project is the sensitization of the military and communities to end any climate of impunity. The project also provides medical, psychosocial and legal assistance, as well as family support and community reintegration, for some 25,000 survivors of sexual violence.
At the same time, the project is helping to rehabilitate health centres and to reinforce community networks and lawyers associations through training and sensitization. It also helps draft laws on sexual violence and supports the administration of justice.
The joint project is implemented in a partnership with United Nations bodies, non-governmental organizations and the Government. They include the United Nations Children's Fund and the Office of the High Commissioner for Human Rights.
Funding for the project comes from the Belgian Government, with plans to expand it with more resources from Canada.
* * *