KAVRE DISTRICT, Nepal – In Nepal's Kavre District, devastation stretches as far as the eye can see. Last week's 7.8-magnitude earthquake flattened most of the homes in Kavre's Rampur Village, and the majority of the area's residents – including pregnant women, new mothers and infants – are living in hastily erected camps.
Many of the pregnant women are in urgent need of obstetric care. UNFPA's most recent estimates indicate some 126,000 pregnant women have been affected by the disaster. Sabina Danuwar, 17, is one of them.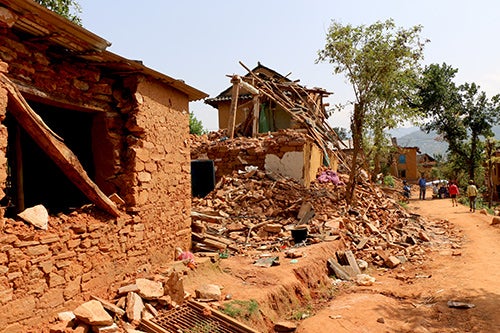 Most of the houses in Rampur Village, in Kavre District, have been destroyed. © UNFPA Nepal/Santosh Chhetri
The earthquake, Nepal's worst in almost a century, destroyed her home in seconds. "I was indoors when the ground starting shaking," Sabina recounted. "I ran away so fast, without considering that I'm already three months pregnant."
Sabina and her family are now living in a tent, and she says she has a persistent headache and fever. "Fortunately, I have enough food for now," she said, "but I need materials that meet my health needs. I need to protect myself and the baby inside me."
Reaching women and children
On 4 May, the Government of Nepal reported the death toll had reached 7,365, with more than 14,300 people injured. Thirty-nine of Nepal's 75 districts have been affected by the disaster.
UNFPA is working with partners on the ground, including the Family Planning Association of Nepal, which has established a health camp in Rampur Village that is serving hundreds of locals, most of them women, adolescent girls and children. UNFPA is also working to prevent gender-based violence, as women's vulnerabilities are exacerbated in humanitarian crises. UNFPA and partners are distributing dignity kits, which contain essential hygiene supplies, including soap and sanitary pads, for women and girls.
At the health camp, 20-year-old Sajina Aryal told UNFPA the dignity kits are helping. "Without these items…we wouldn't be able to function properly, and our trauma could be even worse," she said. "We're also grateful for any help we can get to stop men from abusing women in our camp. Such violence happens even during ordinary times in our village, and could get even worse at this time."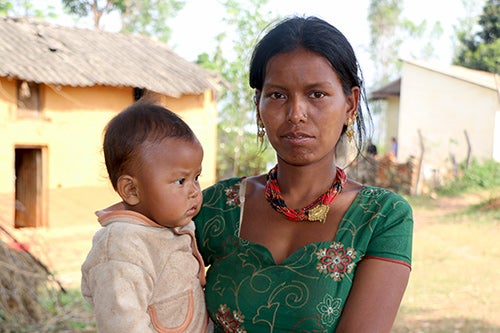 Rabina Danuwar and her 14-month-old son in Rampur Village. Their home was destroyed by the quake. © UNFPA Nepal/Santosh Chhetri
New mothers, including those who are breastfeeding, need special care as well. Rabina Danuwar is the mother of a 14-month-old boy. Her home, too, was destroyed, and her family is living at a temporary camp.
"Even simple supplies like soap, scarves, saris and sanitary pads are so useful at this time," Ms. Danuwar said. "I can take better care of my baby if I can take better care of myself too."
Midwives lead the way
Midwives are also playing a key role in providing essential health care to pregnant women and new mothers.
"We've set up help desks at maternity hospitals to assist pregnant women, their family members and those who've given birth and been discharged from the hospital," said Kiran Bajracharya, president of the Midwifery Society of Nepal, a UNFPA partner.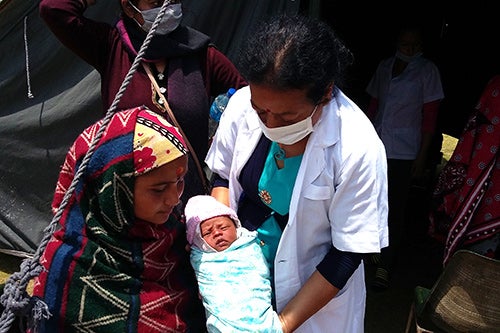 Kiran Bajracharya, president of the Midwifery Society of Nepal, with a woman and baby after a safe delivery. Photo courtesy of Kiran Bajracharya.
"We're also conducting community outreach clinics with a special focus on pregnant women, post-natal mothers and newborns at temporary shelters at Tudikhel Military Ground and Bhaktapur, where massive destruction has occurred. Our midwives are liaising with medical and paramedical professionals as well to collect family kits with essential supplies to distribute to earthquake victims who've lost everything," she added.
"We're seeing heartrending suffering, and doing all we can to help women deliver their babies safely, and tend to their newborns in the best way possible, despite the terrible circumstances."