BRATISLAVA—"Everyone knows women are victims of war, but they are never represented at the peace table," Elisabeth Rehn, a United Nations advocate for women in wartime and post-war situations told an expert meeting that opened here today.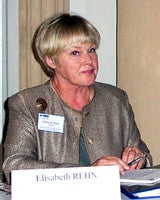 Ms. Rehn was the keynote speaker, starting a wide-ranging discussion on "The Impact of Conflict on Women and Girls", organized by the United Nations Population Fund (UNFPA). Many of some 50 participants from governments, UN agencies and nongovernmental organizations have experience assisting conflict victims in Eastern Europe and Central Asia. They are meeting to formulate strategies to involve women in conflicts in decision making and planning, and to ensure that their reproductive health needs are met.
The international community must enable women to play a broader role in conflict prevention, conflict resolution, peace building and post-conflict community development and nation building, Kunio Waki, UNFPA Deputy Executive Director for Programme, stressed in his remarks.
The opening plenary was also addressed by Pál Csáky, Slovakia's Deputy Prime Minister for Human Rights, Minorities and Regional Development; Rainer Rosenbaum, Director of UNFPA's Country Technical Services Team in Bratislava; and Mária Demeterová, First Secretary to Bratislava's mayor.
In response to UN Security Council Resolution 1325 last year, the United Nations Development Fund for Women (UNIFEM) appointed Ms. Rehn of Finland and Ellen Sirleaf-Johnson of Liberia to study conflicts and post-conflict situations throughout the world, in order to recommend ways to enhance women's role in peace processes.
Ms. Rehn, who served as the United Nations Secretary-General's Special Representative in Bosnia and Herzegovina in 1998 and 1999, reported that the two found some common themes in missions to 10 countries ranging from East Timor to Macedonia. "Everywhere we went, women were asking for 'education, education, education,'" particularly for their daughters, she said.
Rape and domestic violence were common in each conflict they studied. Violence against women takes various forms, including trafficking in women in the Balkans—she told of women being openly sold into prostitution "like cattle in the market"—and a rise in so-called "honour" killings of women in the Occupied Palestinian Territories.
But there were positive findings as well. "All over the world, women have the strong will to take responsibility for the future of their countries," Ms. Rehn reported.
The meeting was organized by Gender Issues Branch of UNFPA'S Technical Support Division with the support of its Bratislava Country Technical Services Team. Over the next two days, working groups will discuss four topics: the impact of conflict on reproductive health; sexual and gender-based violence; the role of peacekeeping forces; the role of local nongovernmental organizations.