ASUNCIÓN, Paraguay – At only 16 years old, Laura* has already experienced intimate partner violence. "For two years, I put up with verbal and even physical abuse," she said, referring to an ex-boyfriend. "It's one of the worst things I have ever experienced. I was afraid, and I didn't know what to do or who to go to."
Violence against women is a global epidemic, one that reaches some 1 in 3 women around the world.
And it starts early.
In Paraguay, surveys show 1 in 16 adolescents, and 1 in 13 youths, have experienced physical violence. Every day, four girls experience sexual abuse, and two girls under age 15 give birth, according to information from the Attorney General and the Ministry of Public Health.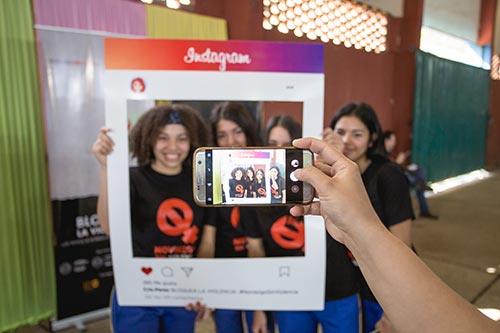 The campaign is reaching young people through social media, in schools, and through television and radio. © UNFPA Paraguay/Mario Achucarro
To end this violence, UNFPA is working with the Ministry of Women, the Ministry of Education and Science, and the Itaipú Binacional company to launch Noviazgo sin Violencia, which means "Dating without Violence."
The initiative will train hundreds of teachers to address violence in relationships, a methodology developed by the Ministry of Women's Affairs. The lessons cover gender equality, gender-based violence, positive relationships, and how teachers themselves can intervene and help students escape violence.
The initiative is also disseminating messages about positive relationships to 2,500 secondary school students in Asunción and other cities in five of the country's departments.
Block the violence
The initiative is accompanied by a mass media campaign – called Block the Violence – designed to reach young people through television and radio ads, videos, billboards, social media posts and brochures. Many of campaign's images are based on real messages exchanged by adolescents and young people.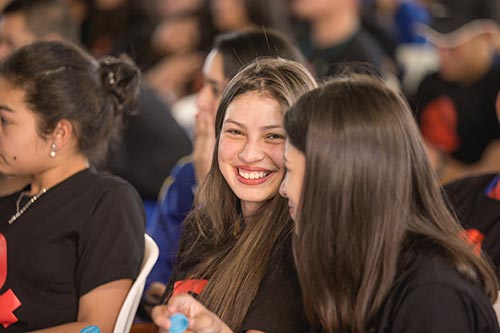 The initiative is targeting young people as well as teachers, parents and community members. © UNFPA Paraguay/Mario Achucarro
But the campaign does not only target youth.
It also focuses on parents, teachers and community members, encouraging everyone to be aware of, talk about and take action against gender-based violence.
The messages also refer survivors to a 24-hour hotline maintained by the Ministry of Women's Affairs.
I didn't want that kind of life
The participation of youth – on social media and in schools – is critical to these efforts.
"We are sure that, together with you, we will be able to reduce and, why not, dream about eradicating violence in the country," said Ana María Baiardi, Paraguay's Minister of Women, speaking to young people.
"Fear should never be the starting point to get what you want in a relationship," said Enrique Riera, the Minister of Education and Science. "Things can only work if there is love, and true love involves the happiness of the two."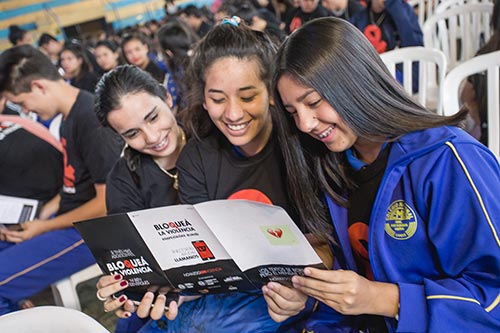 The messages include information about a 24-hour hotline where survivors can get help. © UNFPA Paraguay/Mario Achucarro
Laura agrees. The pain of her relationship is still fresh.
"While he always said he loved me, abuse was a constant. According to him, I deserved it. I deserved to be hurt, humiliated and mistreated by him," she said. "He controlled me all the time. He would follow me everywhere I went, and threatened me so many times I lost count… I didn't want that kind of life." 
She contacted UNFPA through the initiative's Facebook page, eager to share her story for the benefit of other survivors.
"I'm so happy to know there are campaigns to address this issue, to get people to talk about it, so other girls can understand they're not alone if they're going through a similar experience," she said.
* Name changed