MAHAJANGA, Madagascar — Every day, 10 women die from complications related to pregnancy and childbirth in Madagascar.
Many more survive, but suffer from untreated complications of pregnancy, including the most debilitating injury of childbearing, obstetric fistula. Although the condition was not recognized in the country until recently, it is estimated that 2,000 Malagasy women develop fistula each year.
Zafisoa's story
Zafisoa, a birdlike 20-year-old Malagasy woman, is one of them. She lives a three-day walk from the nearest medical clinic. When she went into labour with her second child, she spent the first day at home.
Instinct told her something was wrong, so the second day she spent on a cow-cart. The third day, she arrived in a taxi at the Marovoay health clinic, where doctors conducted an emergency Caesarean section.
The baby survived, but the 72- hour labour left Zafisoa with a birth injury - a fistula in the wall between her vagina and bladder. Without an expensive operation, she would never control her bladder again.
"My husband went out to buy food and never came back," Zafisoa said, sitting with a catheter trailing between her legs at the SALFA hospital in Mahajanga, Madagascar.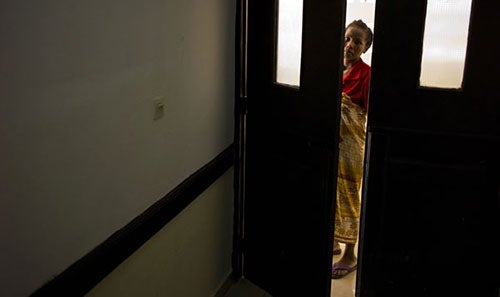 Zafisoa, walking through the door to the surgical clinic, and a new life. Photo © Dominic Nahr / Magnum Photos
Sophia's saga
Another is Sophia. Now 20, she was forced by her parents to marry a 15-year-old boy when she was 14. Despite a 2007 law in Madagascar banning marriage for boys and girls under 18, traditional marriage customs still persist. Two years into her marriage, Sophia became pregnant. Her labour went on and on.
"I had to be evacuated by car to a city five hours away from my village. My labour lasted for a week," she says.
As a result of the obstructed labour, Sophia's baby was stillborn. To save her life, the surgeon had to remove her uterus. Shortly after the delivery, Sophia discovered that she was also suffering from fistula, the most devastating of all childbirth injuries. Her husband promptly abandoned her.
"My parents-in law told my husband that I was useless," she says. "He left me soon after I was diagnosed. Now he has married another woman."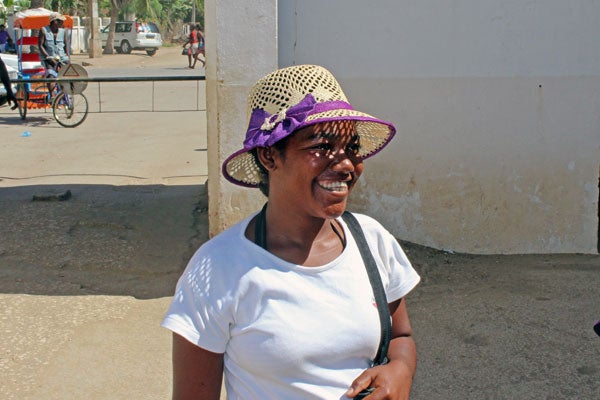 Smiling Sofia after her reconstructive surgery. Photo: UNFPA Madagascar
Avoiding the tragedies, treating survivors
Tragedies like Zafisoa's and Sophia's could be avoided if all Malagasy women received assistance from skilled health personnel such as a midwife during childbirth and had access to emergency obstetric care and family planning services. However, only 44 per cent of Malagasy women were attended by a health professional during childbirth, and only 35 per cent of deliveries take place in health facilities. Weak infrastructure, inefficient referral systems, inadequate equipment, and lack of qualified staff make access to healthcare especially difficult in rural areas.
In November 2012, when Sophia was 20, she had reconstructive surgery at a hospital in Tuléar, southwestern Madagascar. The procedure was arranged and subsidized by the Campaign to End Fistula, a joint initiative between the Ministry of Public health and the UNFPA. "Until relatively recently, obstetric fistula was not a recognized problem in Madagascar," said Gillian Slinger of UNFPA, Coordinator of the global Campaign to End Fistula. "But in the last five years, UNFPA has helped create a significant mobilization to identify and help fistula cases in the country. This has involved the training of local teams in fistula surgery and management, as well as support missions from international agencies such as the Geneva Foundation for Medical Education and Research."
"I'm not sick anymore."
"After the surgery, I was so happy," Sophia reports. "My friends have come back to me. I'm not sick anymore."
Each month, several women and girls suffering from fistula come to the hospital in Tuléar seeking help, but unfortunately the surgeon cannot operate on them all. Indeed, many patients cannot afford the cost of the surgery.
"Sometimes, the family of the fistula patient looks for money before bringing the woman to the hospital, but in many cases they do not have the means necessary," says the surgeon.
More surgeons are needed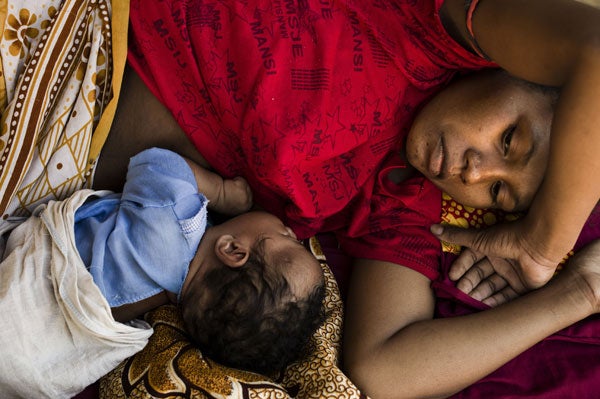 Many fistula survivors also have to deal with the loss of a child, but Zafiosa's baby survived. Photo © Dominic Nahr / Magnum Photos
However, since 2007, many more Malagasy women suffering from fistula have received reconstructive surgery free of cost through the UNFPA-supported Campaign to End Fistula. In Madagascar, ten health-care facilities are able to perform fistula surgery, however, there is a limited number of health-care professionals with the necessary skills. The surgeon who repaired Sophia is one of 14 surgeons who performed over 100  fistula surgeries during the first national Campaign to End Fistula supported by UNFPA in 2011.
Of the 2,000 women who develop a fistula every year in Madagascar, Zafisoa is one of the lucky few to have found treatment, thanks to UNFPA.
"I don't know if my husband will return but even if he does, Zafisoa says. " I don't want him back." As a reminder of her experience, she has nicknamed her child Ningani, which means 'the husband left'.
Political upheaval, limited funds
Political crises in Madagascar have led to increasing poverty and less money for reproductive health. According to a recent national survey, poverty rates rose by around ten per cent between 2005 and 2010; today, three quarters of the population live on under $1 per day.
Across the country, women continue to pay the cost. Inadequate or expensive healthcare, limited access to contraception, poor transport and absent infrastructure: these are just a few of the challenges that contribute to poor maternal outcomes for Malagasy women.
The Government provides money on a quarterly basis to Toliara Regional Hospital says Dr. Andrianantenaina, its Deputy Technical Director. However, he adds, "Since 2009, we have never received anything in the fourth quarter."
Resources don't stretch to fixing their broken ambulance. If the hospital's ambulance had been functional, Namboarine, 48, might not now be standing over the body of her stillborn grandchild.
Insecurity, she says, prevented her 16-year old daughter from travelling during the night in time for the Caesarean -section that could have saved the baby's life. Now they have a hefty bill.
"I don't feel anything," said Namboarine, staring at the tiny corpse. "The only thing I can think of is the money." But without the access to emergency obstetric care, Namboarine's loss would have been two-fold as her daughter would probably have died as well.
-- reportage by Guifty Banka, UNFPA, and Jessica Hatcher, Magnum Photos