DOI SAKET, Chiang Mai, Thailand — In modern societies where people tend to place products above human relations, older people are often considered a burden. But in this poor community affected by AIDS, they are valuable assets.
After a lifetime of chores and farm work, Mother Peng, a 73-year old widow, took on a new job as caregiver when her daughter, Buakhao, became ill. Although her own health was poor, she told herself she had to be strong.
"I lived in my own house taking care of my daughter's two children, as she had to work. But after Buakhao got sick, we had to borrow money from other people. Two years later, she died and I had to sell this house and rent it from the new owner. I'm very old now but still worry about my younger granddaughter," Peng sobs. "If I die, I don't know where she will stay."
"Buakhao became very, very sick in her last five months. Her older daughter and I took turns taking care of her. It's so painful for a mother to see her daughter dying. At that time, I also wanted to die, but I couldn't. If I died before her, who would care for her?" she asked, clutching a framed photo of Buakhao.
The physical and emotional strain on Mother Peng led to chronic illness, including gastritis. "When I am sick, I have to ask a neighbour to take care my grandchildren for me. I get on the bicycle and go to the hospital by myself, six kilometres away. When I arrive, my blood pressure is always high." She laughs as she says this, but has tears in her eyes.
Losing a Child to AIDS, Caring for an Infected Grandson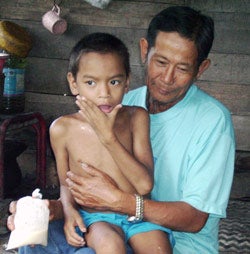 A naked, skinny 9-year-old boy is running around a tumbledown house while his grandfather runs after him, asking him to put on clothes.
"He is Sompong, my daughter's son. He is not normal," says Sawang Torsuay, 53. "When my daughter became pregnant, we didn't know she was infected; we found out later. The doctor said the embryo was abnormal because she was an injecting drug user. My daughter decided to terminate the pregnancy, but the infant was delivered alive. After that, her health got worse and worse until she finally died."
After caring for their ailing daughter, Sawang and his wife continued to raise their grandson, who is also living with HIV. The boy seems to have problems with brain functions and requires more attention than other children. But access to health specialists appropriate for Sompong's physical and mental challenges is far beyond the family's reach.
"Sompong doesn't talk with anyone, but he loves to be held," Sawang says. "He doesn't like to wear any clothes – always takes them off. He smiles all day and plays alone. For his first five years, he did not receive ARV [anti-retroviral] medication. At that time, we did not know that there was a treatment."
Sompong's bulging belly and emaciated body clearly show that, apart from his delayed development, the orphaned boy is malnourished. "He can only eat rice and ripe bananas. If I have cow's milk or soy milk, I try to feed him using a syringe."
Asked about the future, Sawang mumbles, "I don't want to think about it. My wife died last year, so I have to work harder to earn money and also care for him. My older brother helps too, but he is not very healthy. If we died, no one would look after him. No one would give him the medicine he has to take twice a day."
The AIDS epidemic has affected many older persons in Thailand. Many, like Peng and Sawang, are saddled with care-giving responsibility while struggling with their own health, both physical and psychological. Most are poor, with no permanent income and no way to get out of the poverty trap.
About 400 such people receive modest assistance from a project that UNFPA, the United Nations Population Fund, supports in four districts of Chiang Mai. The project aims to highlight both the needs of older people and the contributions they can make to their communities as experienced caregivers for people with AIDS and their children, for example, by helping to reduce the costs of hospital stays and care for orphans. Enabling them to tell of their loss could also help raise awareness of problems caused by premarital sex, drug use and human trafficking.
For younger family members, the intended message is to visit older relatives and provide physical care or financial assistance, to boost their morale and keep them from feeling dejected and alone.
Supportive attitudes, compassion and understanding from neighbours and communities are also essential for older persons, especially those under stress from caring for and losing loved ones.
And for local administrators and national authorities, the project seeks to demonstrate the value of assisting older people affected by AIDS and establishing policies and action plans to ease their economic, social and physical difficulties. Such policies are increasingly necessary as Thailand's population ages and the number of people living with HIV continues to grow.  
— Thitiporn Winijmongkolsin