MONROVIA, Liberia/UNITED NATIONS, New York – Two days ago, Liberia was declared Ebola-free, after the tragic 13-month-long outbreak saw the deaths of nearly 5,000 people. But while the outbreak is now officially over, health systems remain disrupted, leaving many pregnant women and new mothers without access to proper maternal health care.
UNFPA is working with partners to improve women's access to antenatal care, safe delivery services and post-partum care in the aftermath of the crisis.
A health system in need
The Ebola outbreak began in Liberia on 30 March 2014, and it grew to infect over 10,000 people. But the full impact of the catastrophe was even broader: Health facilities quickly became overwhelmed, with many health workers lacking the necessary gear to protect themselves from Ebola transmission. Many pregnant women were turned away, and some were forced to deliver under dangerous conditions.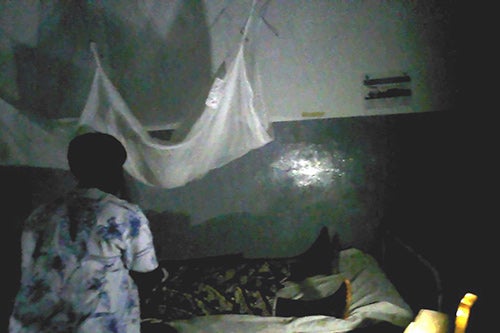 A pregnant woman in River Gee County is examined by a midwife, who is using a solar-powered Waka Waka light. © UNFPA Liberia
The worst of the crisis seems to be over. "Forty-two days have passed since the last laboratory-confirmed case was buried on 28 March. The outbreak of Ebola virus disease in Liberia is over," the World Health Organization announced on 9 May.
But the healthcare needs of women remain critical. Even before the outbreak, Liberia had the 10th highest maternal mortality rate in the world, according to statistics from UNFPA and other UN agencies.
Too few women deliver under the care of skilled birth attendants, such as doctors or midwives, and many health centres lack electricity and running water. With the Ebola outbreak, women's access to life-saving care has only deteriorated.
Shining a light on mothers' needs
UNFPA worked with the government and other partners throughout the crisis to restore and improve Liberia's health services.
In addition to its programme to combat Ebola through contact tracing – the process of meticulously monitoring every person who might have been exposed to the disease – UNFPA provided drugs, equipment and other support to health facilities around the country.
For example, UNFPA, in partnership with Waka Waka, through the Energising Development programme, distributed nearly 2,000 Waka Waka solar-powered lights to health facilities across Liberia. In facilities without electricity, the lights help health workers safely deliver babies at night; previously, staff had to rely on flashlights or candlelight.
"We are now able to conduct safe deliveries at night with less worry about illumination," said Patricia Wilson, the maternal and child health supervisor at Fish Town Hospital, in River Gee County.
"Additionally, we don't have to worry about spending money on batteries, as the sun provides us with the needed energy to recharge," she noted.
During the outbreak, many pregnant women turned to traditional birth attendants for care – yet these traditional attendants lack the skills to manage delivery complications. UNFPA reached out to community members, explaining the importance of delivering in a health facility, under qualified care.
Waka Waka lights were also distributed to traditional birth attendants, who were trained to promote institutional deliveries. Contact tracers received the lights as well. Both traditional birth attendants and contact tracers used the lights to accompany women to health facilities, helping to improve the rates of delivery in health facilities.
In Bomi County alone, institutional deliveries increased from 61 per cent to 74 per cent in the first few months of the programme, according to an initial analysis. 
More action needed
Many more efforts will be needed to ensure the reproductive health needs of women in Liberia are met. UNFPA and partners, for example, have launched the Mano River Midwifery Response, which aims to quickly restore midwifery services and reproductive and maternal health systems in Liberia, Guinea and Sierra Leone, the three countries hardest-hit by the Ebola crisis. The initiative is recruiting more than 500 midwives, doctors and health workers.
Still, with the outbreak officially over, Liberia is beginning to heal. Support for maternal health care is already generating results, health workers told UNFPA.
"These lights may look small," said Ms. Wilson, "but they are doing big things."