DAKAR, Senegal — Health workers say an apparent rise in contraceptive use in Nigeria stems largely from a willingness by traditional and religious leaders in some regions to use their influence in promoting reproductive health.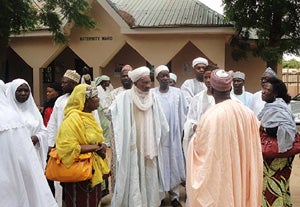 In the predominantly Muslim north, where contraceptive use has historically been far lower than the national average, the support of traditional leaders has helped change attitudes in communities where contraception was long regarded as taboo.
Alhaji Sani Umar, district head of Gagi District, Sokoto State, in northwestern Nigeria, works with the UN Population Fund (UNFPA) to advocate reproductive health in his community.
He said to help overcome cultural and religious concerns about contraception he passes information via traditional and religious leaders, who often hold community meetings. People listen to these leaders, so communicating through them is highly effective, he said.
Umar said he also used culturally relevant performances in villages to promote messages about family planning, reproductive health and safe sex.
Agathe Lawson, UNFPA representative in Nigeria, said that in the north, where she would have expected the most resistance to contraception, she was "having long discussions with religious and traditional leaders" who were working to raise awareness of the need for family planning.
Read the full story from Irin