KATHMANDU, Nepal – "I was so upset when a woman, suffering from heavy bleeding soon after giving birth, had to be rushed to a hospital – travelling six hours on a winding and bumpy road," recalled Pramika Maharjan. "She was between life and death."
Ms. Maharjan encountered the case four years ago, when she was a nurse in Nepal's remote far-western district of Doti.
"Luckily, nothing happened to the new mother," she said. But that moment changed her life, setting her on the path to becoming a midwife. "The case could have been easily treated if I'd had specific skills to prevent and manage postpartum haemorrhage."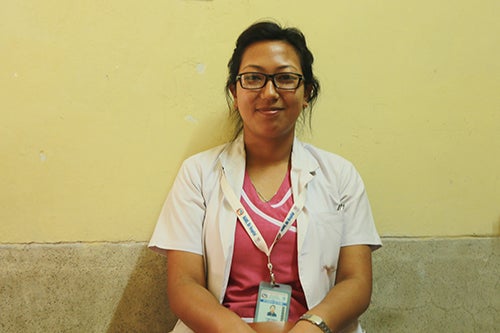 Pramika Maharjan wants to serve women in rural Nepal, where she once saw a new mother near death due to haemorrhage. © UNFPA Nepal/Santosh Chhetri
Today, Ms. Maharjan is a student in a three-year midwifery course run by the National Academy of Medical Sciences – part of the first midwifery bachelor's degree programme ever offered in Nepal.
Preventable deaths
Although there has been great improvement in recent years, Nepal continues to have one of the highest maternal death rates in the Asia Pacific region, with 258 women dying per 100,000 live births, according to 2015 UN data.
"Most maternal deaths in Nepal are entirely preventable," said midwifery student Shrijana Shrestha.
"It's sad that many women in our country still suffer from prolonged, obstructed labour, haemorrhage, infection, eclampsia, etc." These conditions are treatable with the right care, and deadly without.
Yet many parts of rural Nepal lack accessible health facilities or trained birth attendants. A recent survey shows that 41 per cent of babies are still delivered at home, and only 58 per cent of births are assisted by a skilled health-care provider.
Pioneers in Nepali midwifery
The bachelor's programme is part of UNFPA's efforts, with the Government and partners, to build a skilled midwifery workforce dedicated to saving the lives of mothers and babies.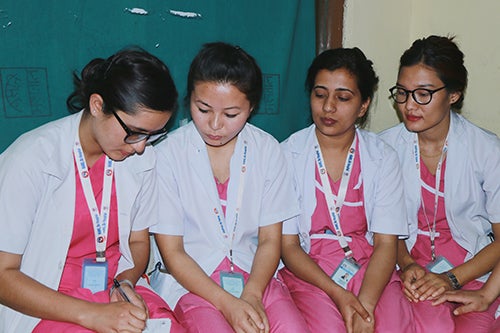 Elevating midwifery to its own dedicated profession will help improve maternal health, experts say. © UNFPA Nepal/Santosh Chhetri
Currently, midwifery is not an independent profession in Nepal. Rather, nurses can undergo supplemental midwifery training. The new bachelor's programme aims to turn midwifery into its own specialized health profession.
"It's important for doctors and other health-care professionals to accept midwives as peers and equals," explained Kristine Blokhus, UNFPA's deputy representative in Nepal. "Elevating the profession of midwifery through this degree programme is a key step in that effort, and this will help midwives to gain respect and credibility as public health professionals."
UNFPA helped to develop the programme's curriculum, which meets global midwifery standards, and also provided teaching tools, supplies and equipment to the participating universities.
UNFPA is also collaborating with the Nepal Nursing Council to train midwifery educators and to develop minimum requirements for midwifery education, accreditation and monitoring.
Highly motivated
The bachelor's programme started at Kathmandu University in September 2016, then expanded to the National Academy of Medical Sciences in January 2017. Together, the schools have 29 student midwives.
"They are all devoted students," said lecturer Akriti Dahal.
"Everyone in our class is very motivated," student Jeevan Kumari Sah added. "We are taught that you are responsible for two lives — a mother and her baby."
Ms. Maharjan, thinking back to her experience in Doti, added, "I want to work in remote areas, where pre-pregnancy, antenatal, labour, birth, post-partum and family planning services are so limited."
The programme's first graduates will enter Nepal's health system in a little over a year and a half.
"This means the country should now come up with a recruitment, deployment and retention policy for midwives," said Professor Kiran Bajracharya, President of the Midwifery Society of Nepal, another UNFPA partner.
"In the countries that have midwifery education, well-trained midwives have saved lives of women and newborns, thus reducing maternal and infant mortality rates," Prof. Bajracharya added.  "Nepal can do the same."
–Santosh Chhetri